At Fundamentally Feline the focus is to address all aspects of a cat's behavior that can be improved upon to help both cats and humans live more harmoniously together. Client education is the foundation of these in home cat behavior consultations. We offer house calls for cat behavior problems in the metro Atlanta, Georgia area and surrounding suburbs. Helping clients better understand their cats, what they need, and how to best provide for those needs, makes for a happier cat and a better educated pet parent.
How do the consults work?
Where you may have heard about us...
Kittens! Yes, sometimes they need help too!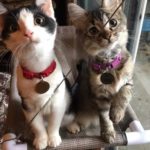 I can't say enough about Ingrid's intuition, knowledge, kindness, dedication, thoroughness and patience. If you follow her instructions, you will benefit immensely. Read more "Kittens! Yes, sometimes they need help too!"
Miranda Lynch
Problem(s) Solved:
Elimination outside the box, food obsession, introducing new kitten after first one was not well received.