At Fundamentally Feline the focus is to address all aspects of a cat's behavior that can be improved upon to help both cats and humans live more harmoniously together. Client education is the foundation of these in home cat behavior consultations. We offer house calls for cat behavior problems in the metro Atlanta, Georgia area and surrounding suburbs. Helping clients better understand their cats, what they need, and how to best provide for those needs, makes for a happier cat and a better educated pet parent.
How do the consults work?
Where you may have heard about us...
Spicy lady-tamed!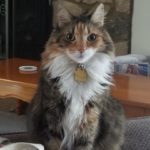 About 6-7 years ago, I consulted with Ingrid about my then 2.5-year-old aggressive, anxious, hot mess calico, Maybelline. She would go through aggressive episodes in which she didn't want anyone around her, including me. Her eyes would dilate, and you could tell in the moment she had no idea who I was. Maybelline is almost 9 now, she's still a hot mess and she will always be "special", but she and I have come a long way. Any time we go through a major transition (moving, adding a new pet to the family), I look to the Fundamentally Feline website for advice on how to make things easier for her and it works. She has taught me more about cats than any cat I've ever had. Read more "Spicy lady-tamed!"
Kara DePriest
Animals:
Maybelline and Remi
Problem(s) Solved:
human directed aggression