At Fundamentally Feline the focus is to address all aspects of a cat's behavior that can be improved upon to help both cats and humans live more harmoniously together. Client education is the foundation of these in home cat behavior consultations. We offer house calls for cat behavior problems in the metro Atlanta, Georgia area and surrounding suburbs. Helping clients better understand their cats, what they need, and how to best provide for those needs, makes for a happier cat and a better educated pet parent.
Where you may have heard about us...
Waffles, Pete and Halo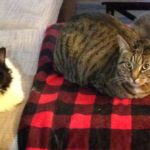 In less than a month, Waffles stopped doing what she had done for years. We really can't say enough good things about Ingrid, and we're so grateful to her for keeping our family together.… Read more "Waffles, Pete and Halo"
Josh Martinez
Animals:
Waffles, Pete and halo
Problem(s) Solved:
Defecating outside the litter box, intercat aggression, introduction of cats to other cats, move across the country!