Having trouble with your cat?
Check out these resources!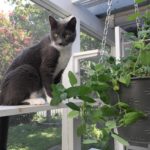 Finding outlets for safe outdoor exploration for cats has become an increasingly popular goal for many cat parents, the concept of "catios," or patios designed for cats, are all the rage now.
Continue Reading...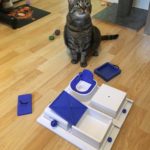 If you started feeding your cats via foraging toys from a young age or if your cats are extremely motivated to acquire carbs you may find they are difficult to challenge. If your cats are like mine they can get food out of virtually anything you give them. I refer to these guys as "master […]
Continue Reading...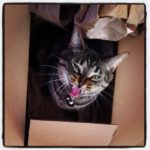 Cats take great comfort in the safety and security that a cardboard box can offer. As a species that is both predator and prey they like to feel protected and "have their back."
As a predator, boxes provide a great ambush opportunity for pouncing on unsuspecting friends!
Continue Reading...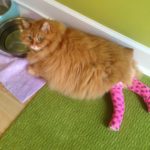 Many senior and geriatric cats have a difficult time navigating the deep sinking, sandy material we know as cat litter. When little hips and knees do not work so well one can only imagine how challenging it can be to navigate quicksand every time you eliminate. Think about that for a minute. How many 80 […]
Continue Reading...
Visit "Swag for Humans" tab for a full size poster available for your clinic, shelter or rescue! Download Image
Continue Reading...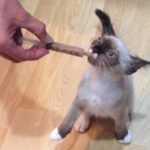 Cats are trainable and can be quite easy to medicate. It is all about finding something that motivates them to make it worth their while. The key to this being successful is keeping the reward novel; do not burn them out on it. Humans struggle with this part. Be stingy with your rewards and before […]
Continue Reading...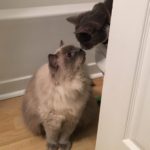 Taking your time with a slow, positive introduction process leads to long-term harmony. The key to introducing cats to each other is to TAKE IT SLOWLY. Take little steps and evaluate how your cats react. There is no magic formula that will tell you when a cat is ready to be fully integrated into the […]
Continue Reading...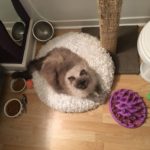 Helping a new cat get comfortable in your home involves much more than opening the carrier door. Regardless of whether there are existing pets in the household, you should not give a new cat(s) the run of the house when you bring them home. Instead, create a safe room where they will remain until they […]
Continue Reading...