Having trouble with your cat?
Check out these resources!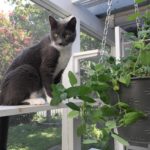 Finding outlets for safe outdoor exploration for cats has become an increasingly popular goal for many cat parents, the concept of "catios," or patios designed for cats, are all the rage now.
Continue Reading...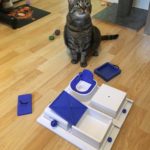 If you started feeding your cats via foraging toys from a young age or if your cats are extremely motivated to acquire carbs you may find they are difficult to challenge. If your cats are like mine they can get food out of virtually anything you give them. I refer to these guys as "master […]
Continue Reading...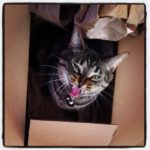 Cats take great comfort in the safety and security that a cardboard box can offer. As a species that is both predator and prey they like to feel protected and "have their back."
As a predator, boxes provide a great ambush opportunity for pouncing on unsuspecting friends!
Continue Reading...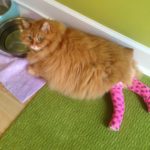 Many senior and geriatric cats have a difficult time navigating the deep sinking, sandy material we know as cat litter. When little hips and knees do not work so well one can only imagine how challenging it can be to navigate quicksand every time you eliminate. Think about that for a minute. How many 80 […]
Continue Reading...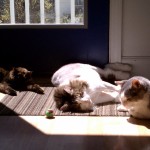 Indoor only cats live longer, healthier lives and have less risk of disease, injury or getting lost or stolen. Should you decide to give your cat supervised access to the outdoors, we recommend using a leash and harness or outdoor enclosure and making sure your cat has proper identification in the form of a microchip […]
Continue Reading...