Feedback from satisfied Fundamentally Feline clients, here is what these cat parents have to say about their personalized, in-home, cat behavior consultation!
A Veterinarian's Perspective!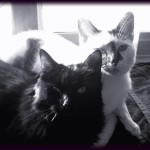 She also has such a thorough and truly holistic approach that instead of simply narrowing in on a 'BEHAVIOR PROBLEM' we talked about all other aspects of a cat's life and wellness plan. Ingrid also cares for the human; she made me feel a lot less embarrassed and inadequate by sharing her own story, and pointing to the reality that no matter how great a job I do, the cats will be cats and at these numbers part of being cats will likely include urine marking. She is a client's dream, and I might add a veterinarian's dream! Read more "A Veterinarian's Perspective!"
Dr. Danya Linehan, DVM
Problem(s) Solved:
Litter box aversion, cat to cat aggression, environmental boredom
Spicy lady-tamed!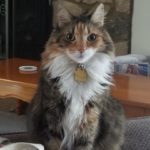 About 6-7 years ago, I consulted with Ingrid about my then 2.5-year-old aggressive, anxious, hot mess calico, Maybelline. She would go through aggressive episodes in which she didn't want anyone around her, including me. Her eyes would dilate, and you could tell in the moment she had no idea who I was. Maybelline is almost 9 now, she's still a hot mess and she will always be "special", but she and I have come a long way. Any time we go through a major transition (moving, adding a new pet to the family), I look to the Fundamentally Feline website for advice on how to make things easier for her and it works. She has taught me more about cats than any cat I've ever had. Read more "Spicy lady-tamed!"
Kara DePriest
Animals:
Maybelline and Remi
Problem(s) Solved:
human directed aggression