Scratching is an innate feline behavior. 
Cats scratch in high traffic areas areas where you and they pass through each day. 
Prominent placement of the post is key to its use.
Asking a cat not to scratch is like asking a dog not to bark or a human not to speak. Scratching is "catspeak". 
Provide your cat with more than enough options that meet their needs and they will not destroy your furnishings. 
Qualities to look for in a good Scratching Post:
Height: The post should be tall so your cat can get a good stretch from the tips of their back toes to the front!
Material: Posts should be covered in an abrasive fabric that helps your cat to shed the outer sheths of their nails. Carpeted posts do not provide enough friction.
Weight: The post should be heavy so it does not topple over when your cat uses it. This can scare your cat and keep them from using an appropriate post in the future.
Location: Scratching posts should be placed in high traffic areas where both you and your cat frequent. That is where cats want to mark with the scent from their paw pads. This is why The Cat's Meow post is ideal, it is available in many colors and will look aesthetically pleasing in any home!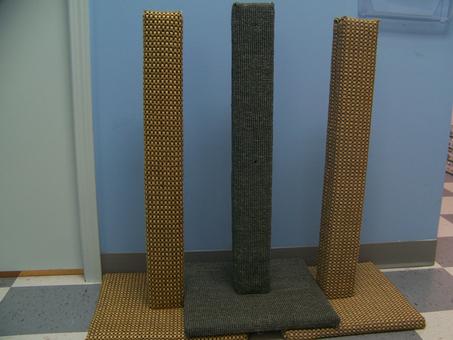 Come by Paws Whiskers and Claws to shop for your favorite color!
Scratching Post Testimonials
For the record, I have two of the scratching posts made by Ingrid at Fundamentally Feline, and they are excellent. Highly recommended!
Andy Kalat, Marietta, Ga.
We have six cats and three of these posts and our cats love them (even our adopted, already declawed cat). Love having beautiful mid-century modern furniture without a single scratch!
Jana Kato, Atlanta, Ga.
We have these scratching posts too...and they have lasted many years!
Ann Russell, Buford, Ga.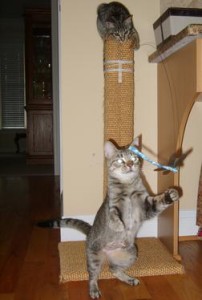 It would be impossible to rave enough about Fundamentally Feline's custom scratching posts. We have them strategically placed around the house so our cats have an alternative they prefer to sofas and chairs. I love that I can order them in colors to blend in from room to room. We own six of them now, two with a Dragonfly cat toy™ attached at the top with a nylon zip-tie. (You can see Sweet Maggie and Sunny Girl demonstrating in the photo.) These posts are heavy enough that they don't tip over when my cats run to the top, and tall enough for my largest cat to fully stretch up the length. It cracks me up when they perch at the top with all four feet together. My first purchase has lasted more than 8 years, still well used in its fuzzy-sisal state. I vacuum empty claw sheaths from the base too, which must mean they save work for the cats too – lots of effort keeping up all that beauty. I have not been able to find a scratching post of comparable quality since I moved from Georgia; I'm so glad Fundamentally Feline ships!
Carol and JIm Armes
Queen Creek, AZ (formerly of Roswell, Ga.)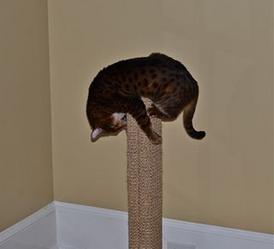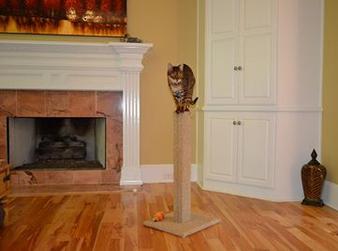 I (and my cats) can fully recommend a scratching post from Fundamentally Feline. The cats can get a real good stretch while using them as they are a good height; they are very sturdy and provide lots of entertainment for both cats and humans!! When Ingrid brought one into my home to show me, Cougar my Bengal immediately clung to it like a koala. We had to get one then!
Julie Dunn, Roswell, Ga.
Left and Right:
​Cougar Dunn, Bengal, loving post!