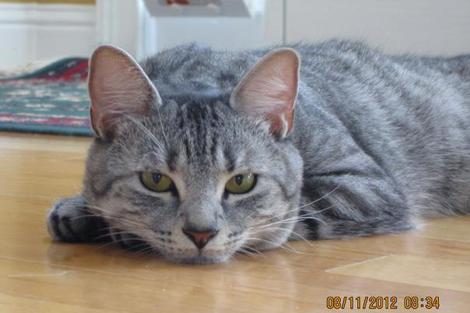 Ohma Petty
A stunning photo of Ohma. Silver coat colors astound me, so beautiful that Mother Nature made such a color!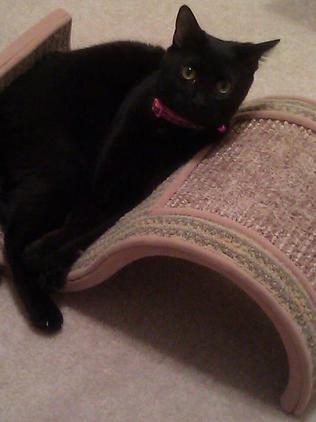 Dior Petty
A beautiful Dior lounging.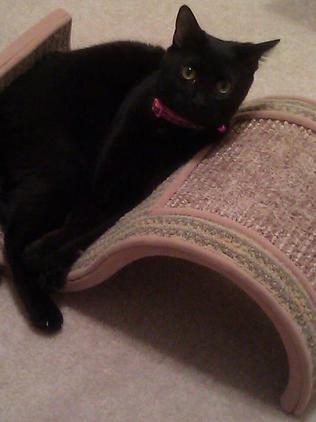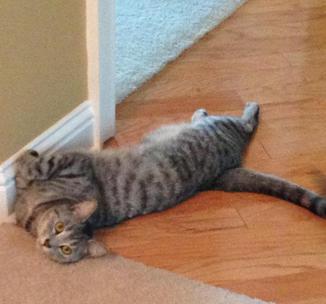 Ohma Petty
Ohma stretched out and feeling safe for the first time in a long time!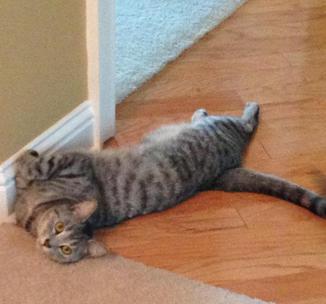 After abiding by my husband's wishes and going without cats in the house for three years, I took advantage of a free cat who, at first glance, seemed to be a really sweet and docile boy. It turns out that this poor cat, Ohma, had been an only cat with an owner who worked and spent a lot of time away, so he didn't really know how react to people who loved to give affection. I thought that getting another cat would help with socialization and show him that petting and scratching are good things! I stopped by a Petco adoption event and found a two-year old black domestic short hair female that I brought home and renamed Dior.
I did my best to do a slow integration by keeping them separate, trading scents and trying to control the introductions. It was ugly but ultimately they got used to each other, and I thought all was good until I noticed Dior attacking Ohma as he used the litter box. Shortly after that, my husband caught Ohma peeing outside the box in the one room. He wasn't even trying to hide it, which put both me and the cat in a very bad position! After a bunch of searching, I found that he had peed along every inch of trim in two different rooms. A couple of very expensive vet visits, prescription food, and new litter boxes did nothing to fix the problem and he was on his way to being surrendered.
My coworker insisted that I call Ingrid; Carol swore that Ingrid could fix the problem! I checked out her website, completed the questionnaire and sent it off. Ingrid gave me a call to get some more information and to schedule a date for the consultation. She drove out to my house to look at the environment, meet the cats and have an in-depth discussion about the situation.
Ingrid really made me feel at ease when we were discussing what I had tried; she gave us positive reinforcement for the good things and pointed out what could be done better in a way that didn't make me feel like an idiot or defensive. Ingrid made a lot of recommendations and brought along examples of play toys, foraging toys, the best litter box to use, and her awesome scratching posts. I put as many of her suggestions into place right away and was even able to get my husband on board with the changes. Ingrid was really patient with my follow up questions and helped me understand that some of the things that I thought were bad that were, in fact, normal cat behaviors.
We're a month and a half into the changes with some work left to do, but I can honestly say that calling Ingrid was the best thing I could have done!
Julie Petty
Buford, Ga.