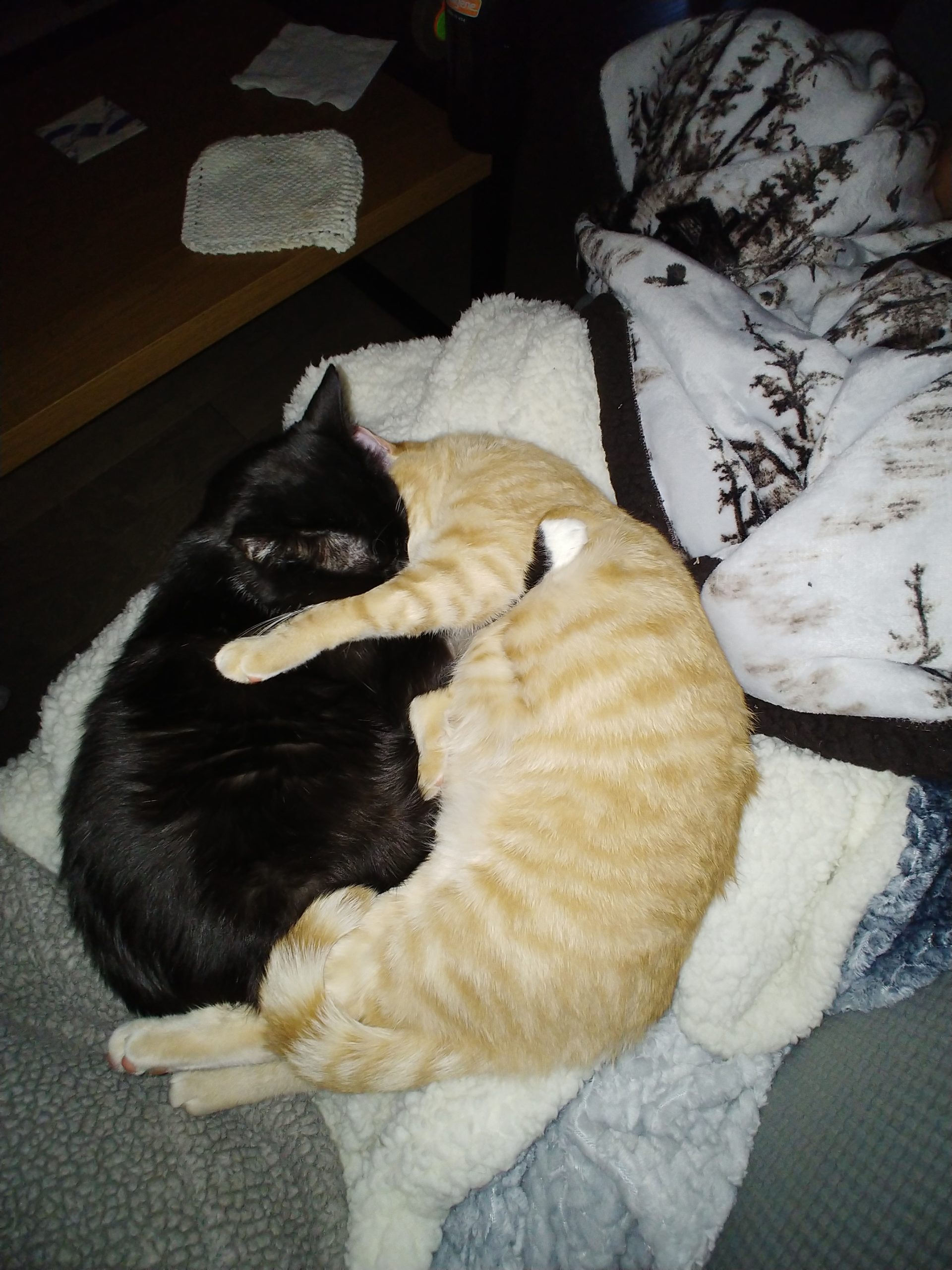 In the past 4 months we had started working from home for Covid, moved into a new house, and introduced a new kitten, Mauz (orange tabby male) to our 3 previous resident cats (all males): Laz, 7yr old grey tuxedo (adopted 2014); Bobby, 4yr (adopted 2018) tuxedo bobtail; Tino, 3yr old tuxedo (adopted 2019). Our three residents had gotten along until a little before our movie, when an incident involving getting ready for the vet, a water fountain, and Tino accidentally splashing Laz, led to increasing tension between those two. Add in the move and the kitten (perhaps not the best choice, but Covid got the better of us...), and Tino and Laz couldn't be alone together without growling or hissing, and they were becoming violent. We felt we had tried everything - separating and reintroducing with positive reinforcement, individual play time, and joint play time with treats - but we were at our wits end. The boys had even started tearing up carpet and yowling incessantly whenever one of them had to be separated. (Bobby and Mauz, meanwhile, were as cozy as could be and had taken to cuddling and grooming very quickly!).
We found out about Ingrid through intense googling, and I am SO GLAD we did! She helped us understand the boys more, and gave us even more tactics to try to help soothe them. We changed their feeding habits completely to decrease tension around feeding times; they had been using automatic feeders for dry food, but we switched to free feeding with foraging toys and all four cats LOVE it. And they don't have to race to the bowls when the timer goes off anymore! Then we did the litter box "cafeteria" Ingrid recommended, and ended up switching from pine pellets to Dr. Elsey's clumping litter, adding another layer of decreased tension in the house.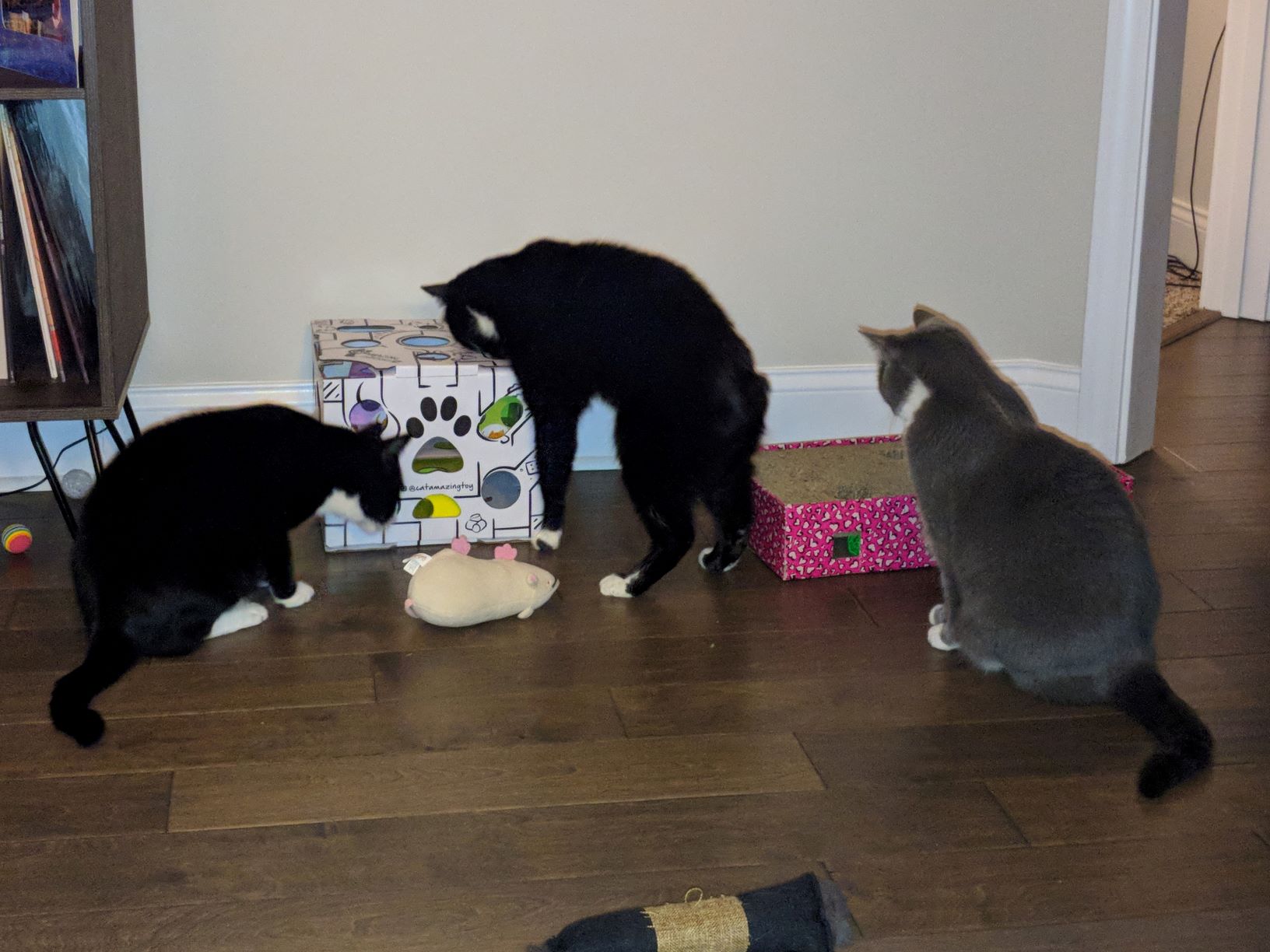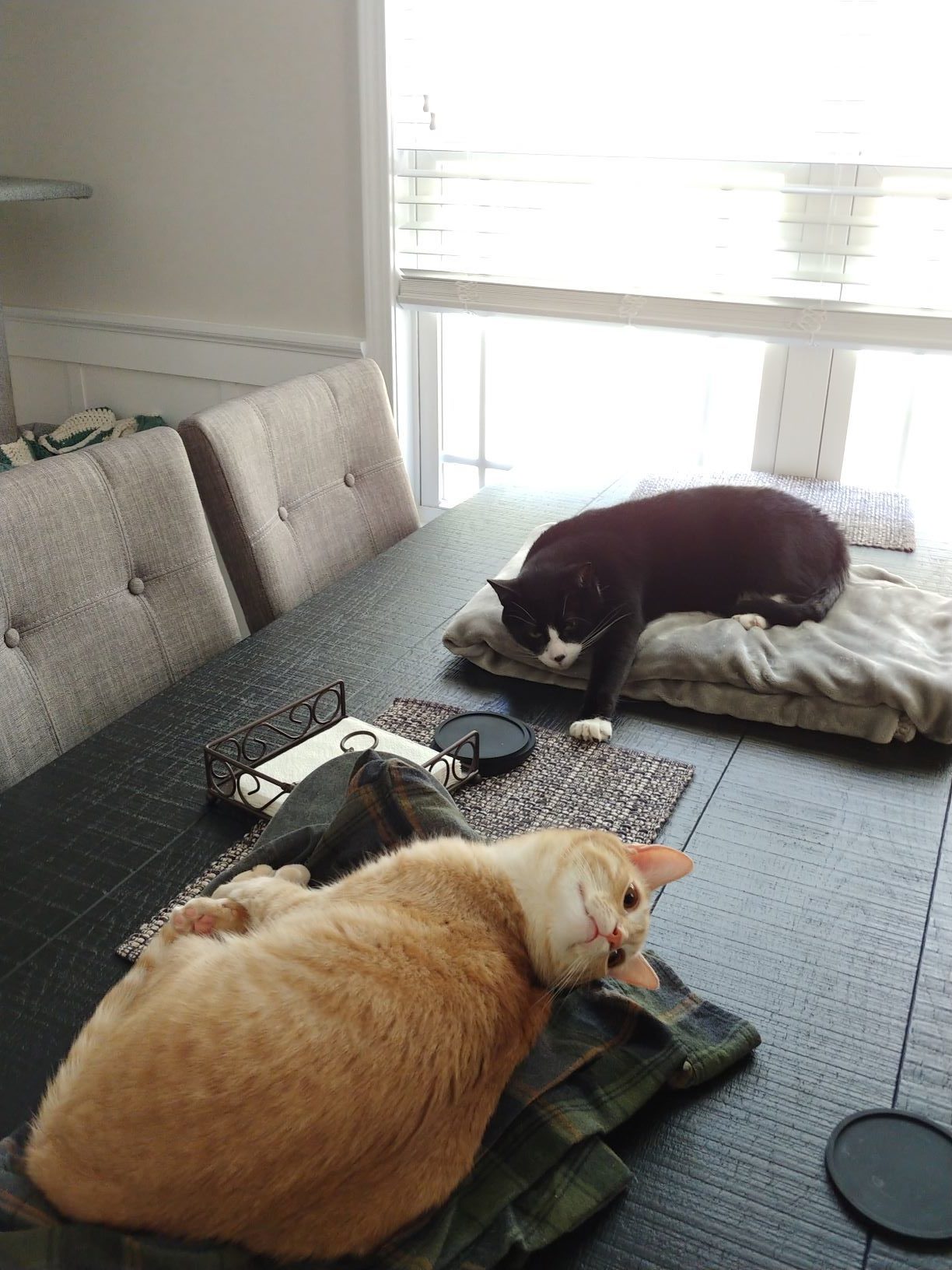 At this point, we were still keeping Tino and Laz separate, rotating them between spaces and having time alone as well as with us and the other cats, who all got along. Things were still rough for a couple months, and so we decided to follow Ingrid's advice and get some medication for Laz and Tino, who had both always been anxious cats anyway. This was definitely the last piece of the puzzle! After an adjustment period, everything just started to get calmer. We VERY SLOWLY started reintroducing Laz and Tino to shared space, for short periods of time, followed by separation (before any hisses or growls). After a few more patient months with increasing amounts of peace, and now Laz and Tino are completely fine sharing the house and being in the same space! They have even taken turns using a foraging toy, without one or the other becoming aggressive. This is AMAZING progress for us! We haven't used the baby gate + hanging sheet combo in over a month, and we're probably going to take it down very soon.
I cannot stress enough how much of an INCREDIBLE turnaround this was! When we sought help from Ingrid, things were so bad that I was feeling like I would have to rehome one of them if this didn't work. It was so awful. They would growl, hiss, and fight on sight. Separating them meant destroyed carpet and/or constant yowling and banging on the door. I felt like we had made terrible decisions and our cats would never be happy together again, and couldn't stand to think of how sad it would be to have to let one of them go. Ingrid saved our family. I no longer worry that my cats' quality of life is lower than it was at the shelter. They are all so loving and unique and they are able to express that more freely now, and can be at ease in our home. I am forever grateful, and will not hesitate to reach out to Ingrid again if there is ever anything else our boys need! And I have readily recommended her to other cat owners and will continue to do so.
Courtney Honeycutt
Byron, Georgia