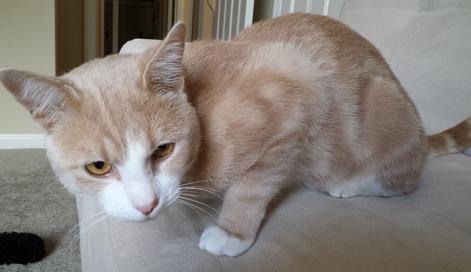 Jackson Butler
This is Jackson when he was first rescued, skin and bones.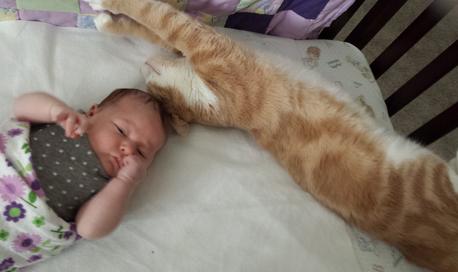 Jackson and the new baby.
Jackson and new baby. Disproving the myth that cats do not suck the breath out of babies! Cats and children really can coexist.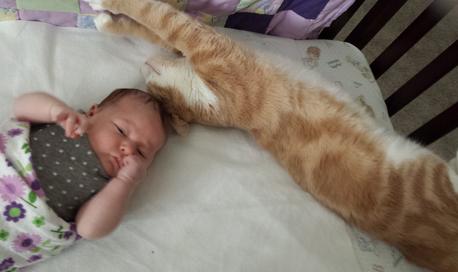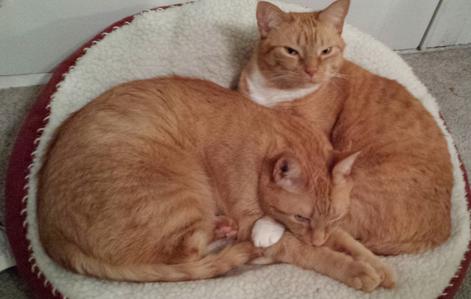 Cringer and Dora
These are the two handicapable siblings (both tripods since birth) that did not welcome Jackson, the newcomer.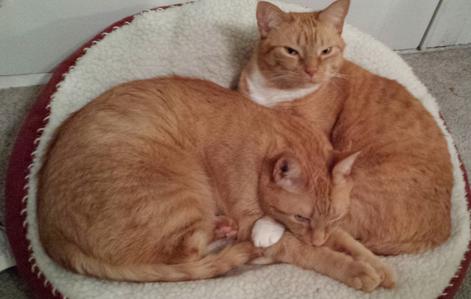 We have known and loved Ingrid from our years of going to PWC. When our beloved Linux passed away in 2007, we adopted 2 kitties who were then at PWC as rescues. Ingrid helped us bring the Nubs, Bitters & Cringer, into our home and worked with us to ensure our move to NC went smoothly. When we dealt with some transferred aggression caused by anxiety about an outside kitty that would taunt our nubs at ground-level windows and glass doors, Ingrid helped us quickly resolve the issue with some easy tips. So, when we brought in a stray later last year, we immediately turned to Ingrid for help.
Jackson was skin and bones. He had several scrapes that required cleaning from our vet. He has what we assume are bb's lodged under his skin near his head and shoulders. And despite all this, he was very friendly and confident.
We knew he needed to be in his own room for a while, and we expected some work to introduce him to our nubs. While Jackson was very friendly with us, he did show some pounce-y behavior when we would walk by, and he would occasionally bite and wrap around our hands. Typical behavior for a cat that has been on his own and hasn't learned how to behave when playing.
We worked with him to reduce this, but the real problems started when we tried to introduce him to the nubs. Jackson's prey instincts kicked in big time and he would attack the nubs when they turned their back on him. Because of this, we were not comfortable bringing Jackson out of his room full time.
Ingrid worked with us closely to make sure we were giving Jackson the stimulation he needed with treat balls, toys, and scratching posts. She suggested clicker training, which has been a huge hit with our very smart boy. He now knows how to sit, shake, high five, sit up, lay down, and go to his mat on command. We no longer have to battle with him trying to get out of the room when we open the door. We simply get him to go to his mat and he lets us come in or leave unimpeded (with a little food reward motivation). She also suggested the thunder shirt and leash training, which has given us some great results and some positive interactions with all 3 kitties in some very supervised outings.
Jackson is a work in progress. We are still working to get him ready for full access to the house and the nubs. But we've gone from very doubtful that it would be possible to integrate him or successfully place him in another home to being confident that even if we can't integrate him with our nubs, he will make an excellent cat for another family. This has all been thanks to Ingrid's insights and willingness to work with us, despite our living 2 states away. She has continued to work with us on ways to streamline the transitions and maximize the tools she's given us to help Jackson be a happy, healthy kitty while we work with him.
(I should mention, in light of recent news events, he was well supervised in his crib time with Katherine, he doesn't always have access to the crib, and we wouldn't be "correcting" him with the same methods those morons did with their kitty)
Allison Butler
Lexington, NC