Having trouble with your cat?
Check out these resources!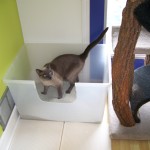 This series is an attempt to change the perception of the litter box. It does not have to be gross, smelly and something you hide. Instead, be proud of how clean you keep your cat litter box. Would you want to go to the bathroom out in the garage in inclement weather? I bet not! […]
Continue Reading...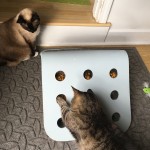 I am excited to share my latest homemade foraging toy! I have constructed a stationary food puzzle out of an Ikea chair! That is right, you heard me correctly, an Ikea chair! There is no limit to what you can use to make cool, interesting and engaging food puzzles.   Check out the instructions below […]
Continue Reading...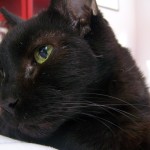 Leftypants! The story of Lefty's injuries, strife, rescue, and life after tragedy is no more unique or special than the stories of so many other cats you have heard about. In fact, his is an all too common tale. But Lefty was special to me, to us, to this family. He helped shape me into […]
Continue Reading...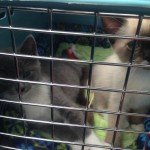 I am often asked for tips on traveling with cats. There are a myriad of suggestions to cover because we have to manage both the seasoned traveler and the cat that has not left the house in 10 years and has a panic attack in the car!
Continue Reading...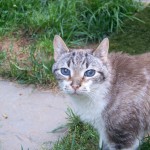 Many of us have lived through it or thought about that dreaded moment when you realize your beloved cat has been lost. What do you do and how on earth will you find your lost cat in the maze of your neighborhood? The following is a list of every suggestion I can think of to […]
Continue Reading...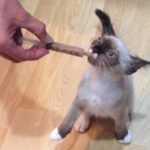 Cats are trainable and can be quite easy to medicate. It is all about finding something that motivates them to make it worth their while. The key to this being successful is keeping the reward novel; do not burn them out on it. Humans struggle with this part. Be stingy with your rewards and before […]
Continue Reading...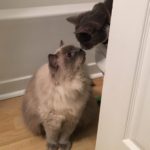 Taking your time with a slow, positive introduction process leads to long-term harmony. The key to introducing cats to each other is to TAKE IT SLOWLY. Take little steps and evaluate how your cats react. There is no magic formula that will tell you when a cat is ready to be fully integrated into the […]
Continue Reading...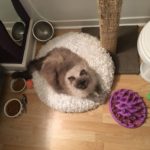 Helping a new cat get comfortable in your home involves much more than opening the carrier door. Regardless of whether there are existing pets in the household, you should not give a new cat(s) the run of the house when you bring them home. Instead, create a safe room where they will remain until they […]
Continue Reading...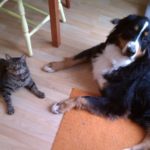 If the cat is the newcomer, they will need to start in a safe room. Find something that motivates the cat as a reward so that you can begin positive reinforcement exercises on either side of a visual barrier such as a baby gate, screen door, French doors, etc. If the dog is the new […]
Continue Reading...