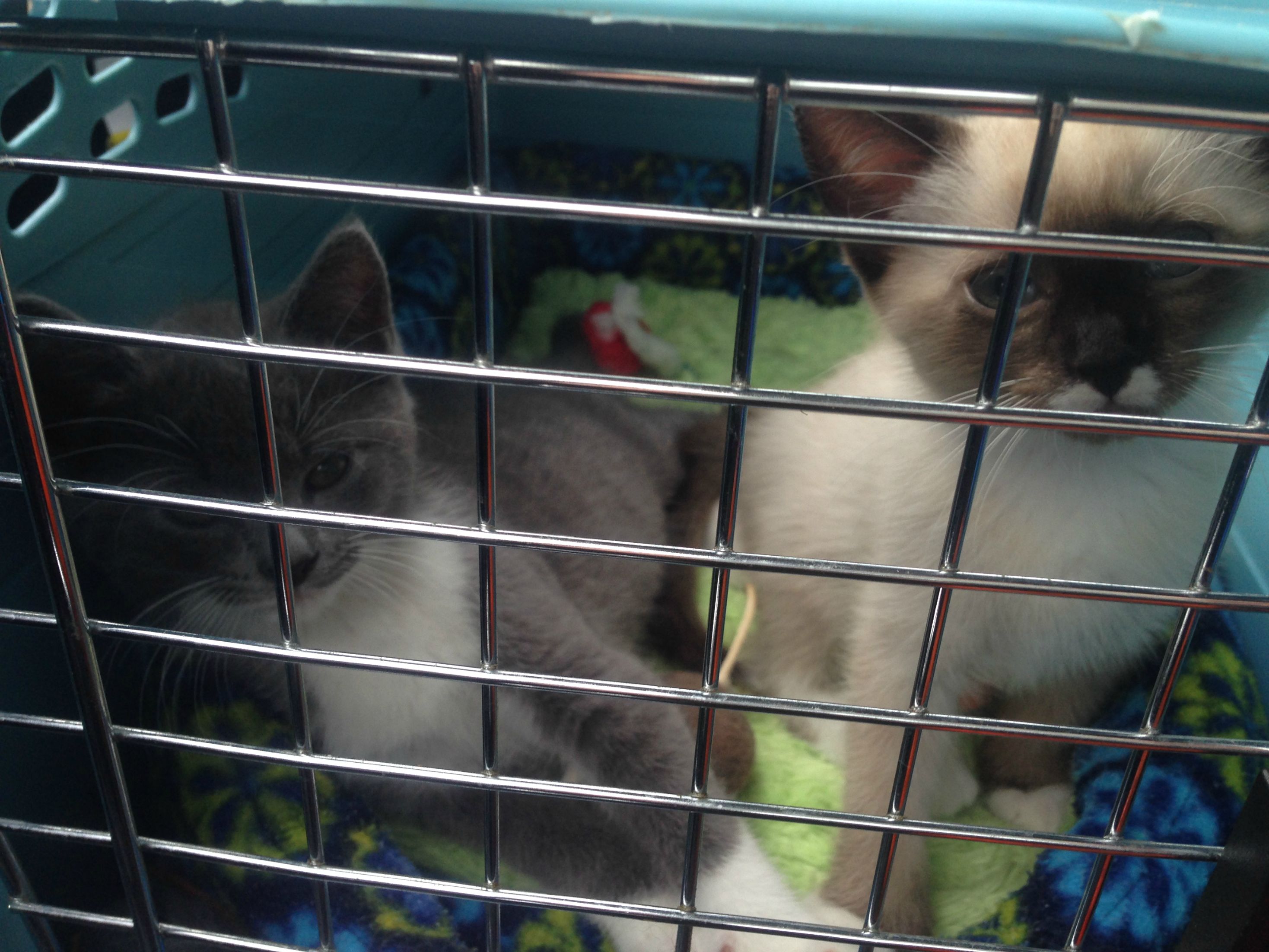 I am often asked for tips on traveling with cats. There are a myriad of suggestions to cover because we have to manage both the seasoned traveler and the cat that has not left the house in 10 years and has a panic attack in the car!
The very first step is a basic one; make the carrier an awesome place to be! See my previous blog post titled, "Have Cat Will Travel" or my How-To video on "Getting Your Cat Into The Carrier" . It is best to start desensitizing your cat to the carrier at an early age or if adopted as an adult cat, when you have newly adopted them. It is ideal to leave the carrier out in the home 24/365. This way it becomes as benign as the armchair in the living room. Place soft bedding in the carrier, treats, catnip, and an old t-shirt that smells like their favorite human. Leave it open and inviting, play in and around the carrier. Top loading, hard sided carriers are my preference.
When it comes time to place your cat in the carrier, DO NOT move the carrier! Bring your cat to the carrier, rather than bring the carrier to the cat. This often results in chasing the cat around the house with the carrier, becomes a terrifying experience and will undo all the good you have done by leaving it out and accessible. If you are willing to put in the time and effort it is ideal to take your cat on short positive trips to get them used to riding in the car. First you may go around the block, and then run an errand like going through the bank drive thru. Never leave your cat unattended in a vehicle. Each trip should be short and end positively with a high value treat. You may also provide treats in the carrier during the trip.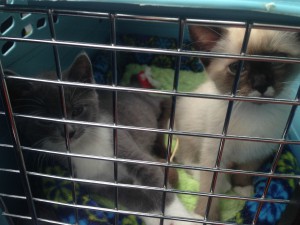 Appeal to your cat's sense of smell! Lavender and honeysuckle are calming scents to cats. They should never be allowed to ingest the essential oils, but placing a few drops on a paper towel and creating a little aroma therapy in the car is a great idea! Thunderspray is a commercially available product made by the makers of the Thundershirt and can be used for this purpose as well.
Feliway is a synthetic feline facial pheromone product that makes cats feel as if they have already marked a new strange place with their smells; making the car, carrier, hotel room and new destination seem familiar. The spray or wipes can assist with travel stress. You can spray the car with Feliway spray about 24 hours ahead of time or at least an hour before travel. The alcohol base of the product needs time to dissipate so do not spray and then immediately jump into the car or all of you will be gaging! The Feliway pre-moistened wipe and can be used to wipe down the inside of the carrier or even the car. The diffusor can be plugging in once you arrive at your new destination to aerate happy smells throughout their safe room.
Music gets humans through road trips, but keep in mind how sensitive your cat's sense of hearing is. Classical music can be calming. It would be advisable not to rock out to Metallica on your road trip! Music is fine, but probably best not to blast it!
Anticipating the inevitable! Many cats will urinate, defecate, and vomit due to either stress or motion sickness. Be sure to have machine washable bedding in the carrier. I also like placing a puppy pad underneath the bedding for added absorption. Bring paper towels, plastic grocery bags, and an extra set of bedding and puppy pads so you can easily switch out soiled bedding.
If your cat is known to vomit in the car you may want to ask your veterinarian for recommendations for something for nausea. There are a variety of different medications that can be tried, most need to be administered at least 1 hour before travel. I do not recommend most sedatives as they can make many cats feel very weird, and some are almost paralyzing to the physical body while still allowing them to race with fear on the inside.
Composure, made by Vetri-Science, are over the counter calming treats. These treats contain L-theanine (the active ingredient found in Green Tea) and can be used for chronic issues as well as acute stress.
While it is safest not to allow your cat to ride out of their carrier, for extended trips some people choose to do so. The safest way to allow them to have access to food, water, and litter is by traveling in an SUV or hatchback vehicle and using one of the commercially available dog containment devices that keeps the dog in the back hatch and does not allow them to hop over the back seat of the vehicle. In this space you can provide all of your cat's basic needs and perhaps even provide a window seat that they could perch on to view the scenery. Keep in mind that while we humans want to offer these things, most cats, in my experience, are usually too nervous to eat, drink or use the litter box. It is nice to offer, but do not be surprised if they "hold it" until you arrive at your destination. And even then, in a new, strange place, it may take a few days to resume normal eating and elimination habits.
If you are flying with your cat NEVER EVER fly them in cargo. Know that you will need to get your cat adapted to wearing a leash and harness as you may be required to remove them from their carrier in the airport at security so that the carrier can be checked.
One of the main reasons cats travel so poorly is because we do not get them accustomed to it at a young age as we do with puppies. If when we adopted our cats we took them to get a collar and leash and took them for car rides, they too would get used to it! If you have new kittens, make the carrier fun, take them for short trips and then moving and traveling and most importantly vet visits will be a piece of cake!
Happy Trails!