Having trouble with your cat?
Check out these resources!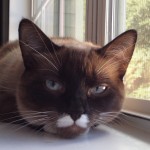 As with humans there are traits that individuals are born with that are out of our control. While some may argue these traits can be changed, others protest that they are ingrained into the very nature of who we are and will remain unchanged despite all attempts to alter them. Little research has been done […]
Continue Reading...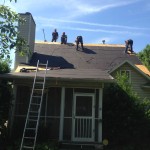 I recently had my roof replaced and found myself having to follow my own advice on how to minimize stress during loud and chaotic events. And loud it was! Wow.
Continue Reading...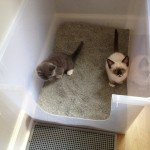 Elimination outside of the litter box is the most common reason clients seek out my services. While there is often a behavioral, environmental or husbandry problem contributing to this behavior, there is often a medical component as well. If the litter box protocol is well managed, and I am suspicious that the cat is experiencing […]
Continue Reading...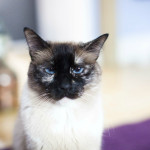 Cats have a very short window in just the first few weeks of life where they learn the majority of their social behavior and the ability to interact with other cats. In other words, they learn to "speak cat", by about 9-12 weeks of age. If they are not around other cats during these formative […]
Continue Reading...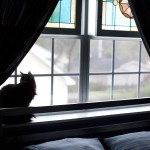 Redirected aggression is one of the most common forms of aggression among cats living in the same household and can be a challenging problem to resolve. Redirected aggression is when one cat experiences something that instills fear, is over-stimulating or highly arousing and they redirect their frustration, aggression or fear onto whoever is closest. This […]
Continue Reading...
Visit "Swag for Humans" tab for a full size poster available for your clinic, shelter or rescue! Download Image
Continue Reading...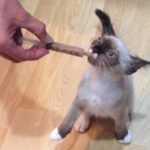 Cats are trainable and can be quite easy to medicate. It is all about finding something that motivates them to make it worth their while. The key to this being successful is keeping the reward novel; do not burn them out on it. Humans struggle with this part. Be stingy with your rewards and before […]
Continue Reading...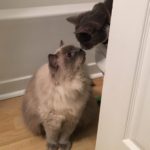 Taking your time with a slow, positive introduction process leads to long-term harmony. The key to introducing cats to each other is to TAKE IT SLOWLY. Take little steps and evaluate how your cats react. There is no magic formula that will tell you when a cat is ready to be fully integrated into the […]
Continue Reading...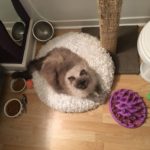 Helping a new cat get comfortable in your home involves much more than opening the carrier door. Regardless of whether there are existing pets in the household, you should not give a new cat(s) the run of the house when you bring them home. Instead, create a safe room where they will remain until they […]
Continue Reading...