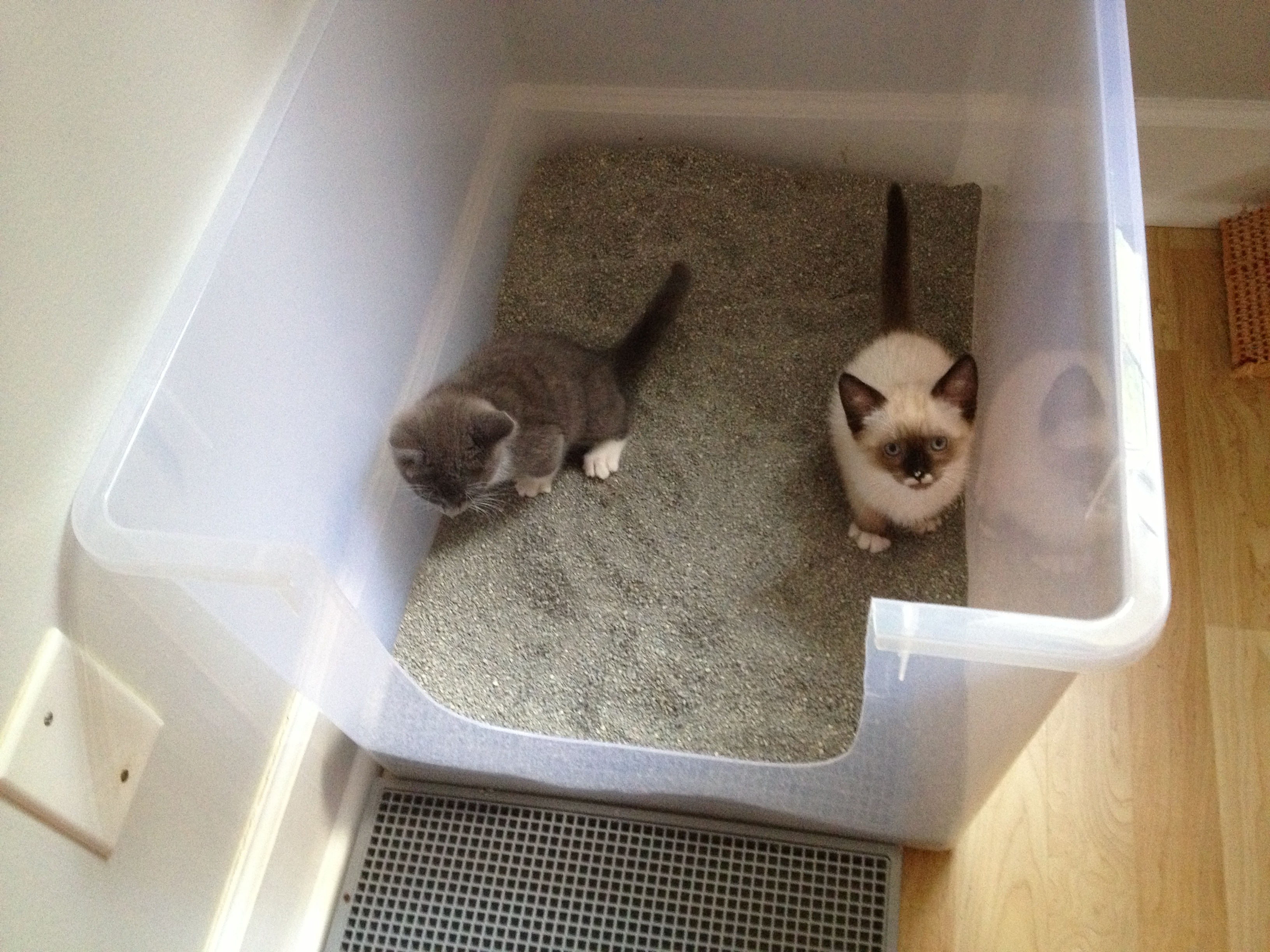 Elimination outside of the litter box is the most common reason clients seek out my services. While there is often a behavioral, environmental or husbandry problem contributing to this behavior, there is often a medical component as well. If the litter box protocol is well managed, and I am suspicious that the cat is experiencing urinary discomfort, then a list of questions is generated to further investigate the primary cause of the elimination problem.

First, I inquire about the act of elimination. Is the cat eliminating frequent small amounts, vocalizing while eliminating, grooming it's genitals after eliminating, has licked its abdomen bald over the bladder area (I see this occur with bladder pain), or if the owner has ever noticed that the urine is discolored (brown, red, or pink), these would all be causes for alarm. Where the cat is eliminating can help determine possible discomfort as well. Oftentimes if cats experience a burning sensation while they urinate, they will seek out cool surfaces to eliminate on such as bathtubs, sinks, tile, linoleum, stainless steel and air conditioning vents located on the floor. If the cat was specifically targeting these areas it would make me suspicious that they may have a urinary tract infection, urinary crystals, bladder stones or cystitis and that a veterinary visit is imperative.
Other factors should be assessed as well. For example, what is the cat's current diet? If the cat is exhibiting some of the symptoms and behaviors listed above and eating grocery store brand foods that can oftentimes contribute to urinary crystals and stones due to excessive mineral content, then that would further my suspicion that there is a medical problem. While many cats can live long healthy lives on almost any commercial cat food, others have a genetic predisposition to forming urinary crystals, bladder or kidney stones and need to be fed a diet with controlled mineral content to help control the formation of these crystals. There is no test currently available to know which cats are genetically predisposed, so I always recommend discussing a high quality food versus grocery store brand foods with your veterinarian to determine which is best for your particular cat.
Another point which should be addressed is the cat's physical size. If the cat is obese and exhibiting the symptoms listed above, cleanliness could be an issue. Most cats that are obese have a hard time reaching under their tail to properly groom (especially if there is not a family dog around to help with the cleaning!). I also see these cats sometimes lick their bellies bald as they cannot reach all the way to their genitals to effectively groom. All patients' hind ends should be checked for cleanliness during a vet visit! Regardless of an elimination problem, if they cannot reach their genitals then I recommend maintaining a sanitary shave about every 6-8 weeks as well as daily wiping at home to help them stay clean. Many kitties can have litter box avoidance and have no internal problems at all, but rather vaginitis or urethritis from having had urine, fecal material, dead skin cells etc., building up around their genitals and causing extreme discomfort, infection and puritis. Your vet may even recommend that your cat be treated with a course of antibiotics and some topical cream to help soothe the raw and irritated skin. Then hopefully, your vet will teach you how to clean your cat's backside. I recommend a variety of products for this purpose ranging from unscented baby wipes, gauze and a waterless shampoo or a washcloth with a mild non-toxic cleanser.
The behavior questionnaire that I have all of my clients complete before we move forward with a consult, asks many of the same questions discussed here. So many clients do not understand why I have asked so many questions and in fact, will leave some areas blank thinking that it does not pertain to them. It asks specifically how many times a day does the cat eliminate, where in the house do they eliminate, what is the size of the urine clumps, has the amount changed in size or frequency? I recommend that the cat sees the veterinarian before most consultations especially if the presenting complaint is related to elimination and aggression, just to rule out any contributing factors that may be medically based.
Does any of what was described above sound like your kitty? If you have an elimination problem with your cat where many of the red flags listed above are present then I encourage a medical evaluation immediately. First and foremost it could quickly become a medical emergency. If the cat is male, eating grocery store brand food, crying out while urinating, and going frequent small amounts, then you need a veterinarian and fast!
Even when there is a medical component, these are still multi-factorial cases. Typically, we must address the medical problem and help the cat feel better while simultaneously making their litter box more appealing. Addressing the problem from both the medical and behavioral aspect is often the only way to increase the likelihood that they will continue to use the litter box once the medical component is resolved.
These behaviors always happen for a reason. Your cat is trying to tell you something. It is up to us to listen and try to decode what they are trying to tell us!