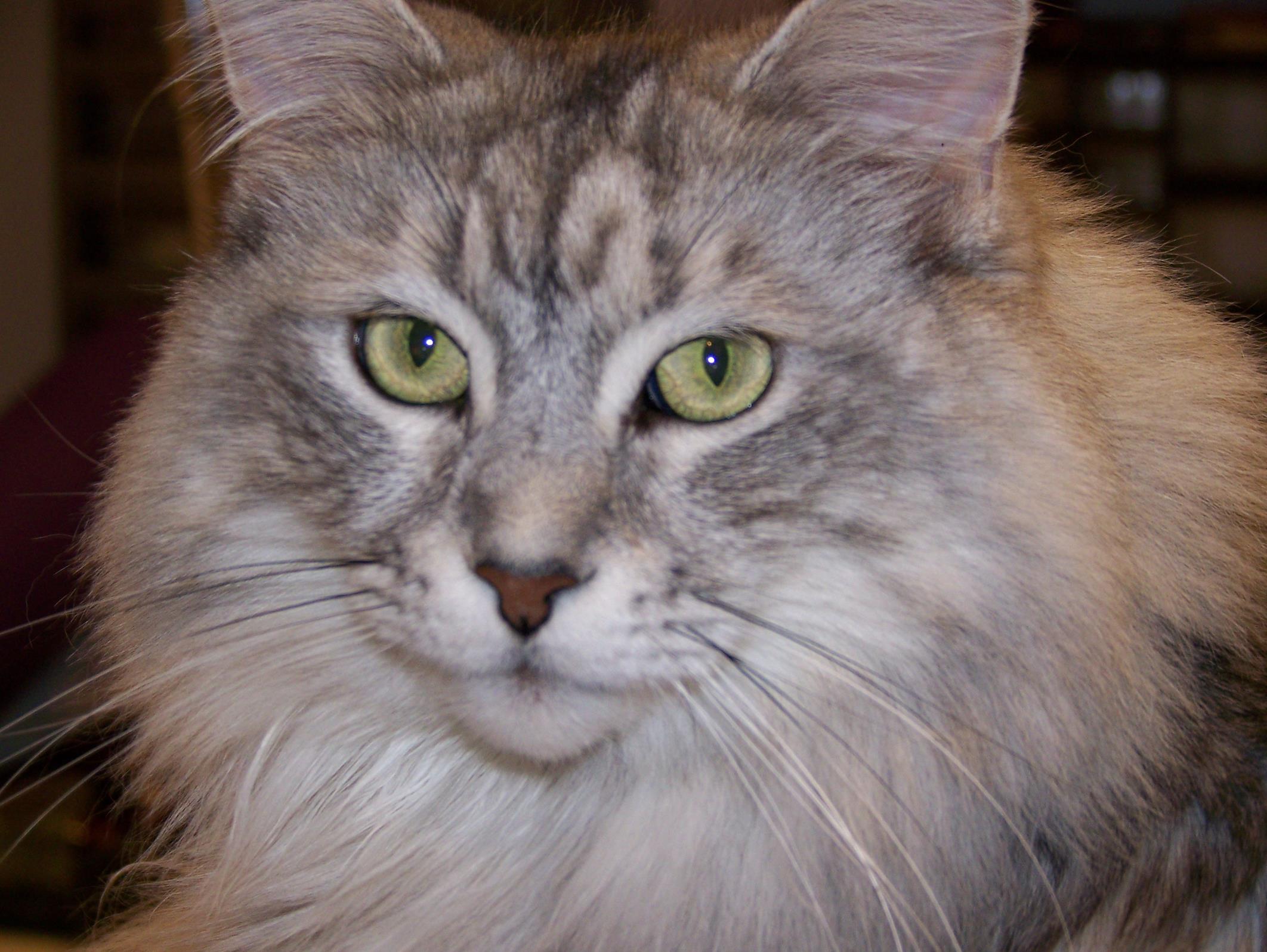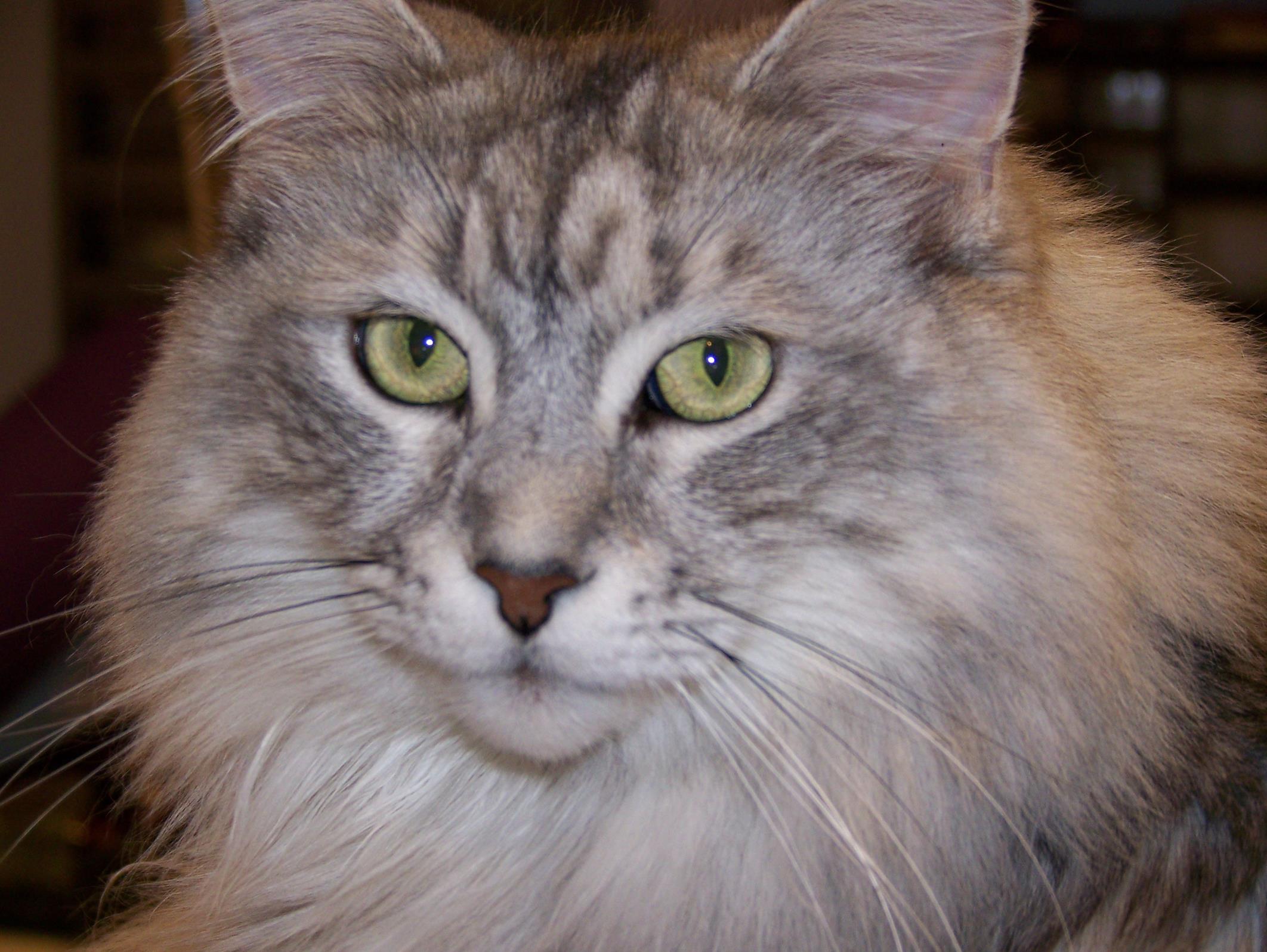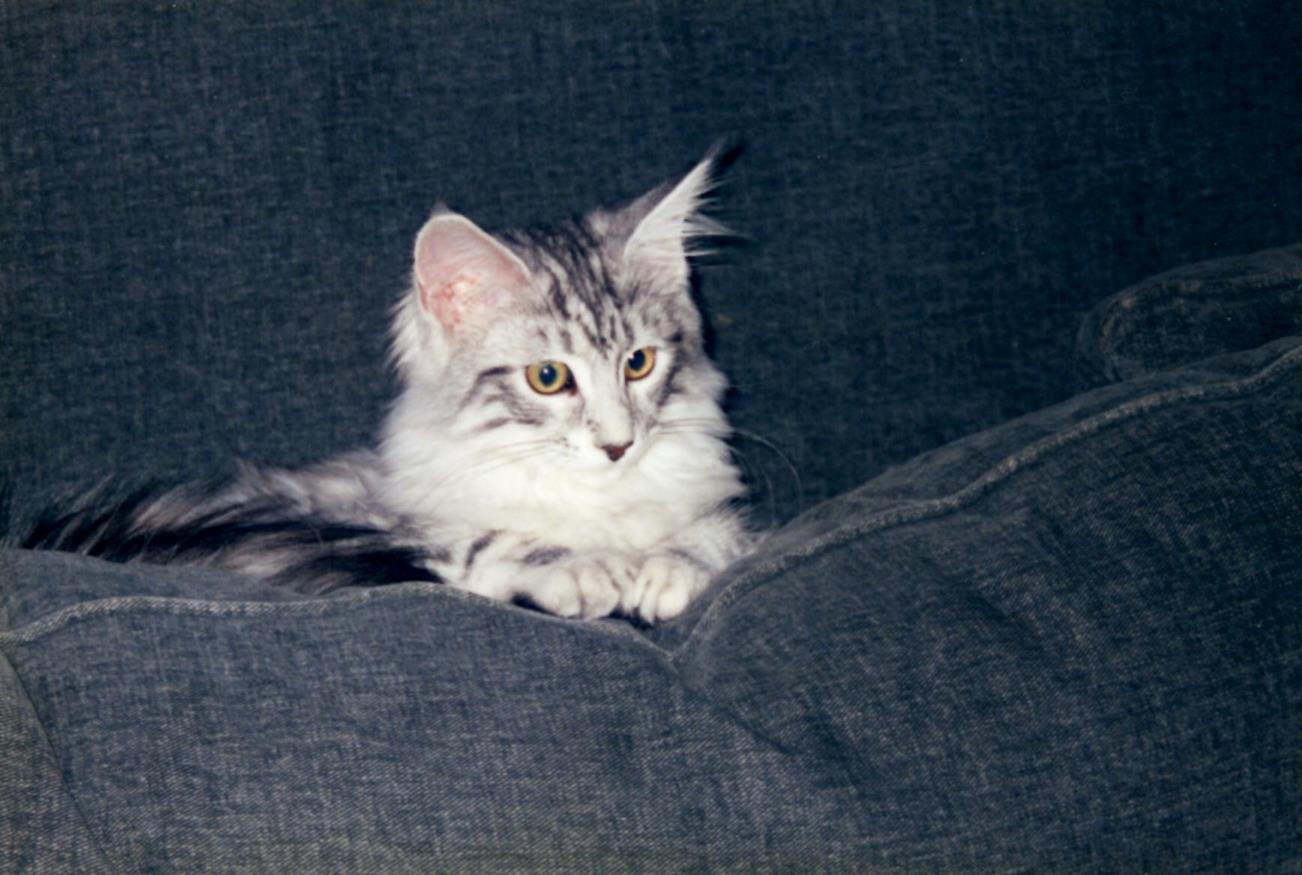 Tallas, is what we most often called her. She was given to me by a previous employer as my Christmas bonus one year. My employer said, "You have rescued so many, you deserve to have your one dream cat" knowing I would never buy an animal. But you see, I had already started to learn that my dream cats came in many colors and from many different walks of life, just look at who had come before her. This was quite the double-edged sword for me and the staff at the office. We saturated ourselves in rescue cats, our homes and the workday were nothing but cats, cats, cats, and most of them in critical need of help and a home. But what was I to do or say? I was ecstatic when I met Tallas, so much so that I think I scared the crap out of here with my enthusiasm over her cuteness. I felt terribly guilty but of course kept her and cared for her despite the controversial circumstances that brought her to me.
Iittala (pronounced e-talla) was a purebred, silver Maine Coon. We named her after a Finnish crystal company. I am Scandinavian and used to work for a Scandinavian import store and we carried this brand of crystal. I thought she looked icy and wintery, so I wanted her name to reflect that. I have always been in awe of "silver" animals, the fact that mother nature makes them, it's just remarkable to me. A Maine Coon was one of my dream cats, and someone wanted to help me fulfill that dream and that is how she came to me.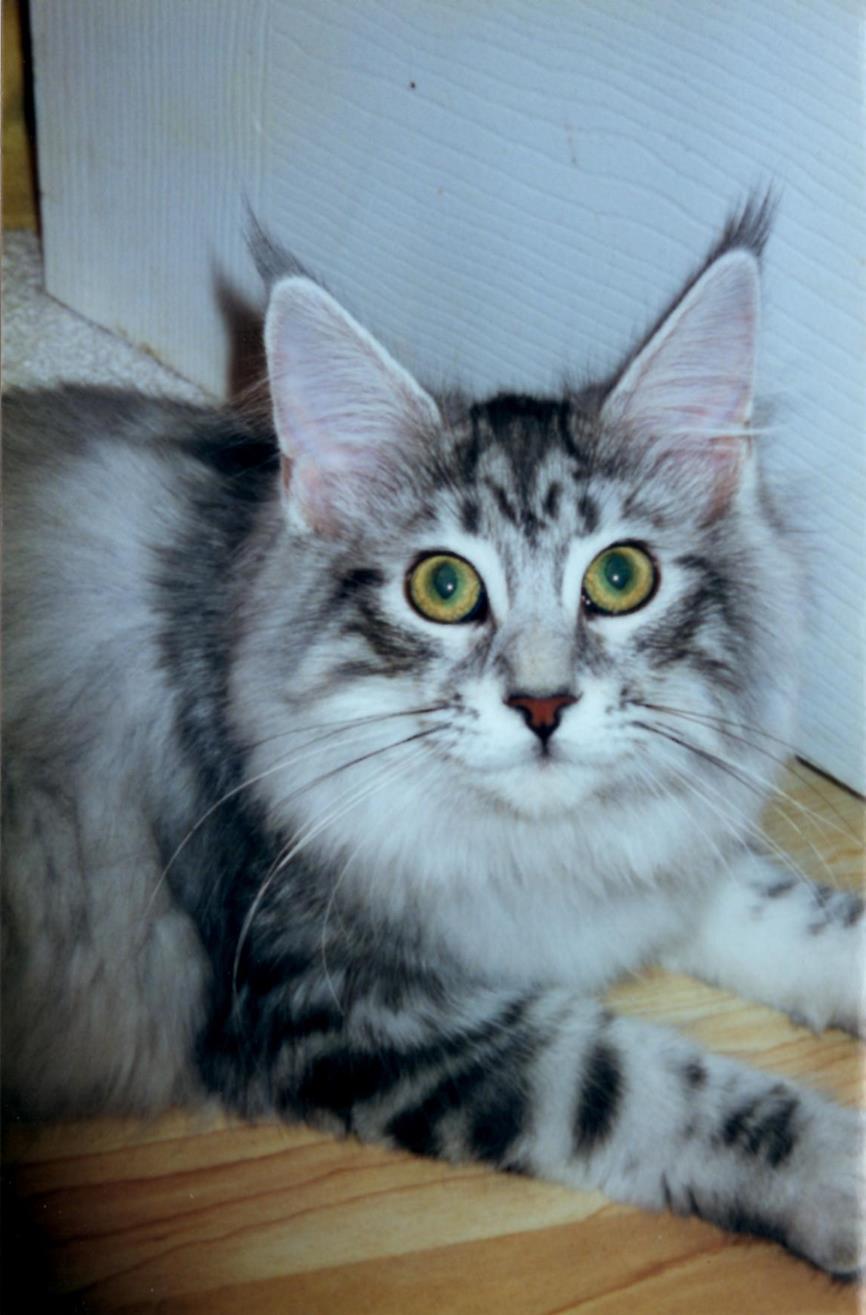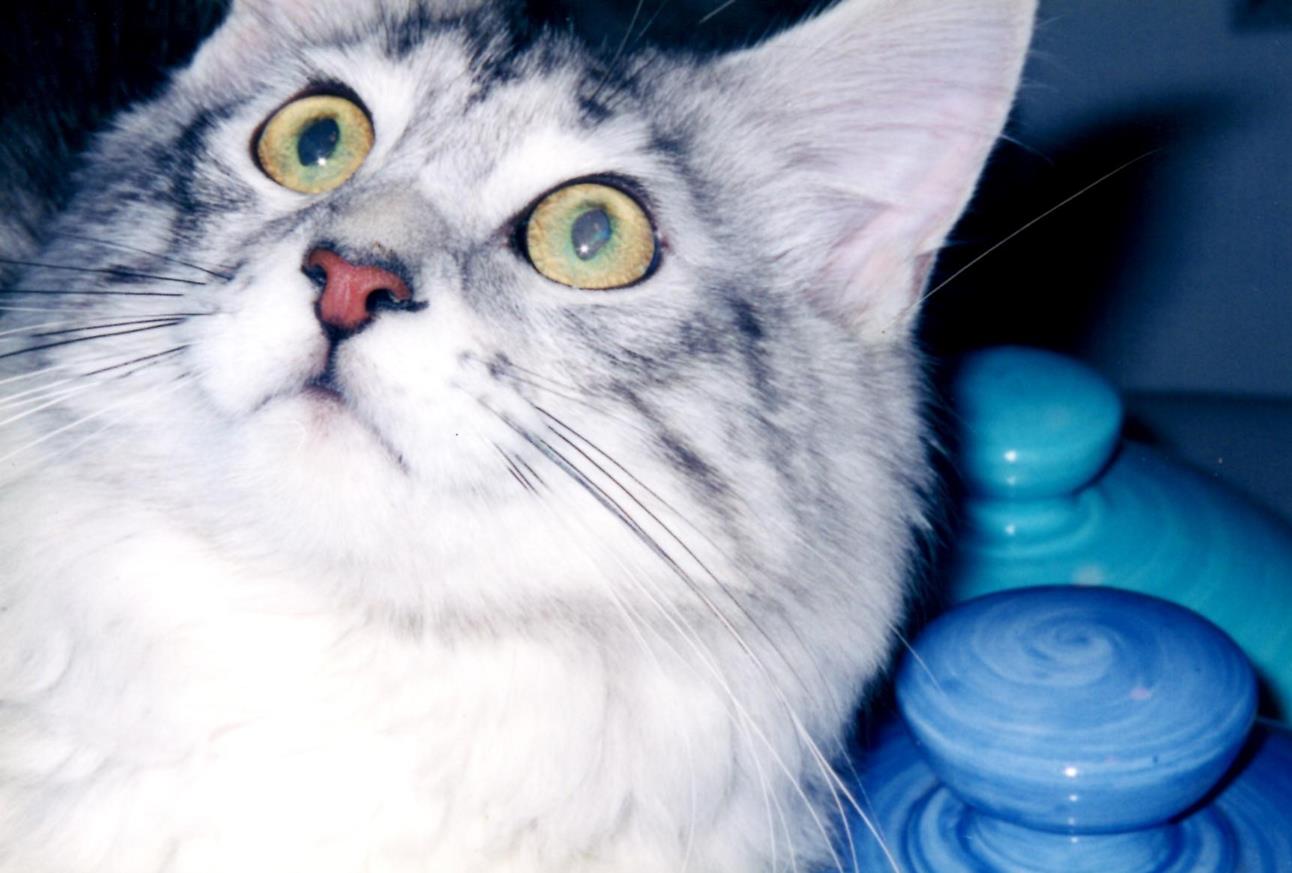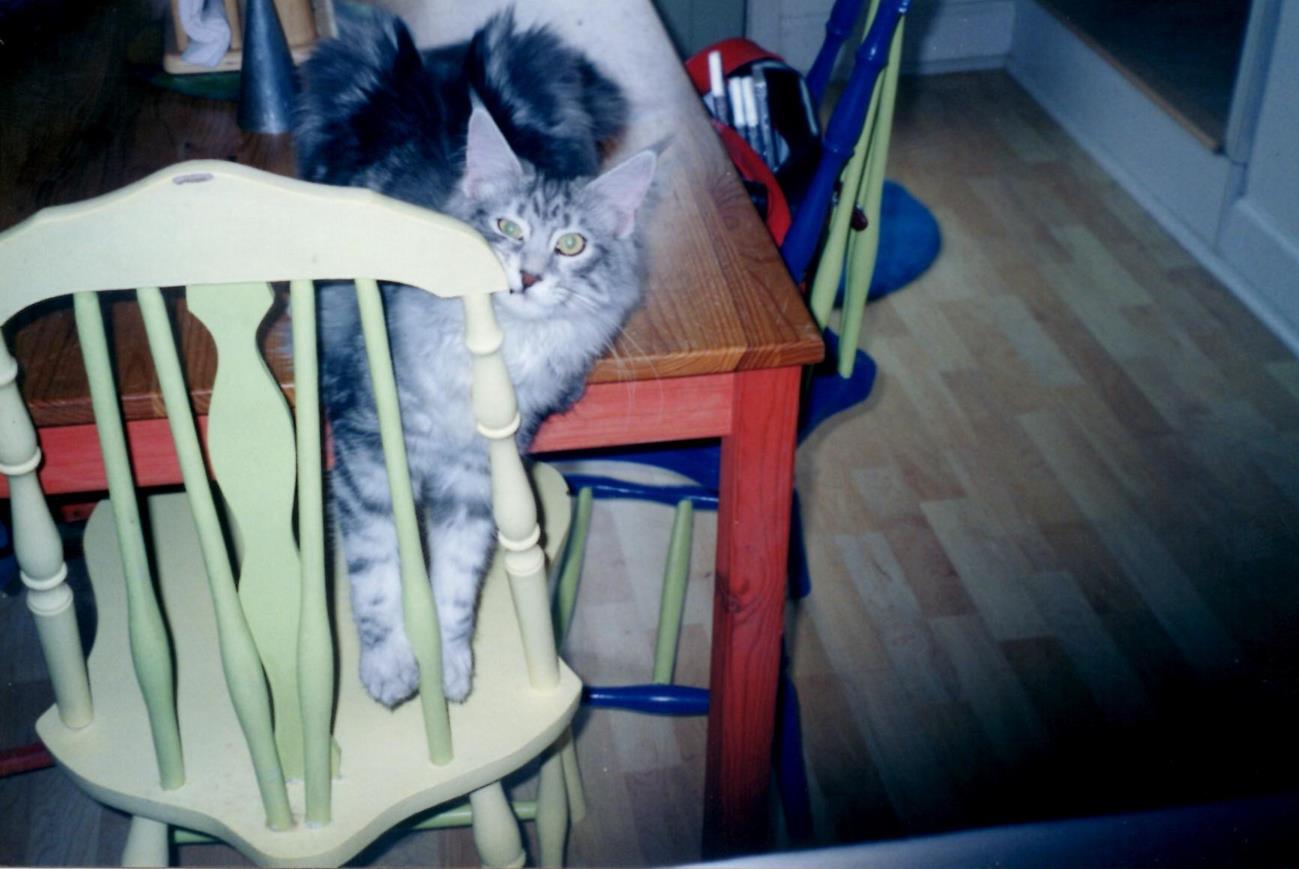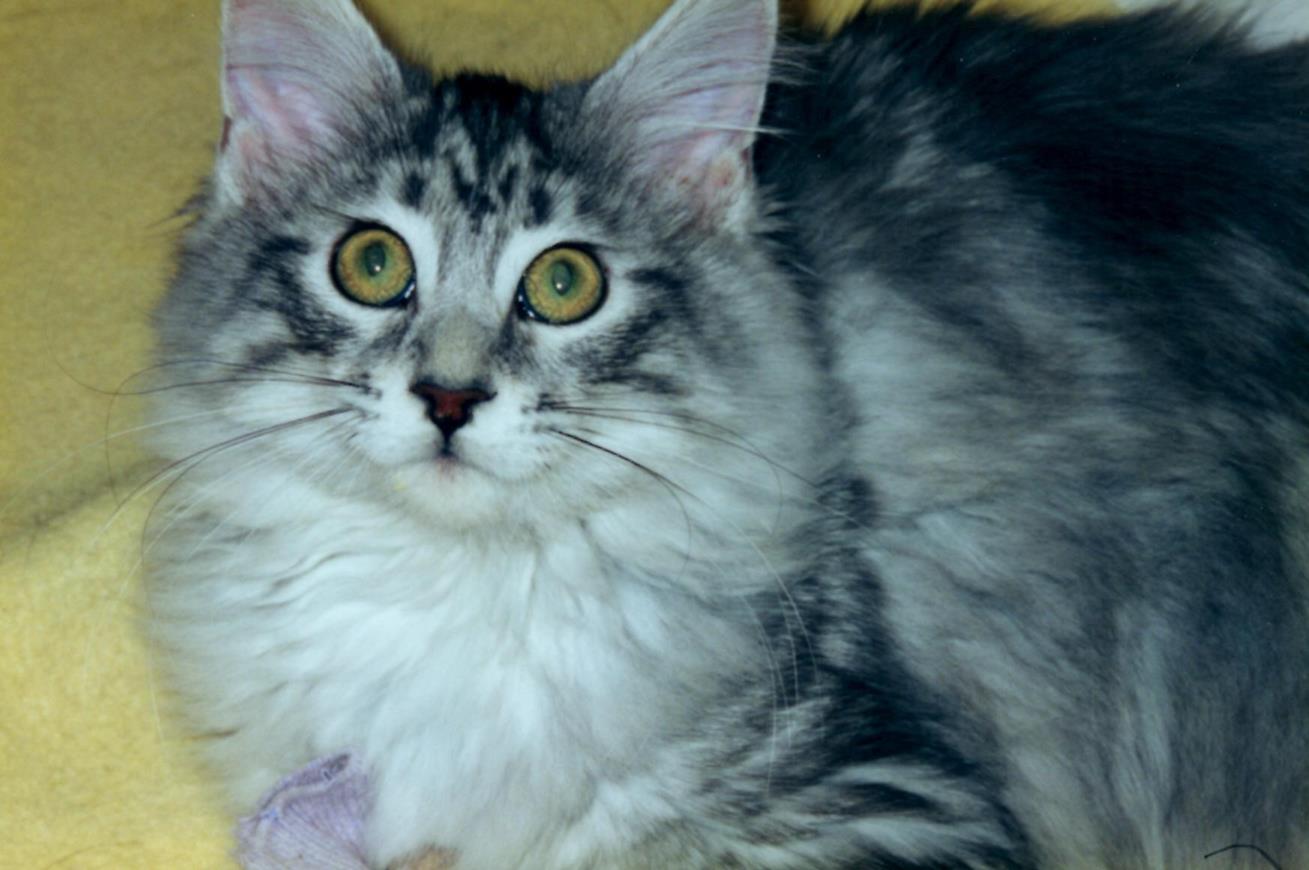 Iittala confirmed what I already knew to be true, adopt in pairs. She was the last of her litter and while we had 16 other cats at the time, she was overwhelmed adjusting to the household. I think it may have been easier for her if she had had a buddy to ease the transition. Her addition was also was the first time we went to 17 cats, which proved to be a bad omen number for us three times over. Every time we hit 17, someone passed away. Sixteen was the "sweet spot" and we stayed there for a long while (about 12 years, actually).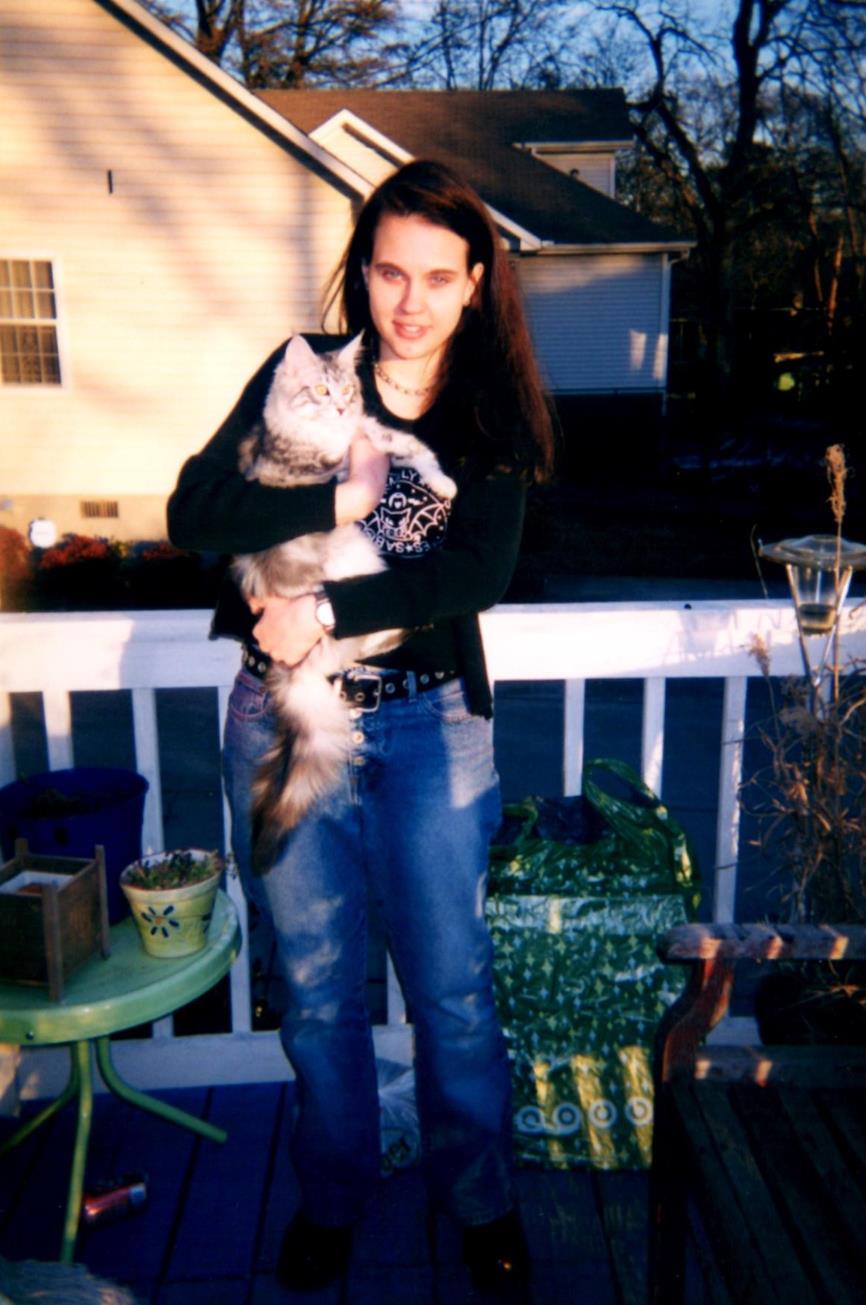 She was a little spitfire of a kitten, and she did not like to be groomed which was a challenge, just look at that coat! I was really looking forward to being her hairstylist, but Tallas was more of a Tomboy and preferred no grooming!
She was hilarious and got along with the dogs really well too. She really embraced the feline accommodations, which compared to all we have now, feels like they were living in squalor back then!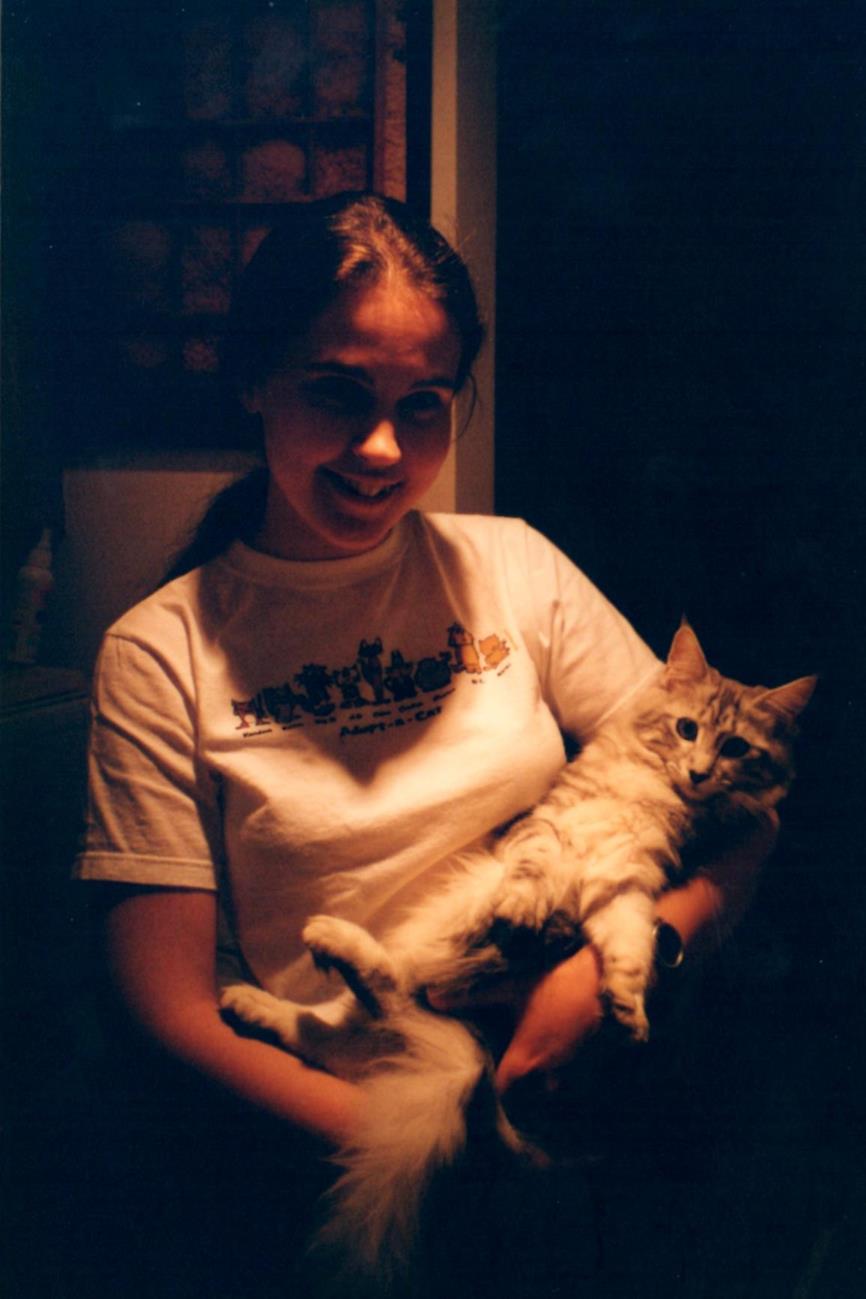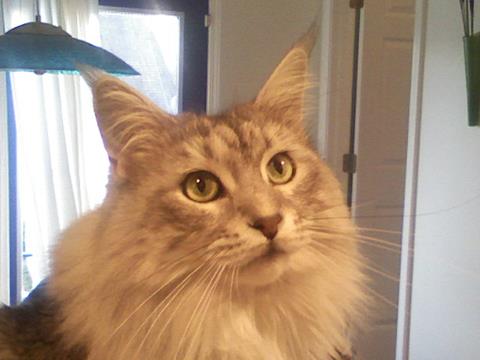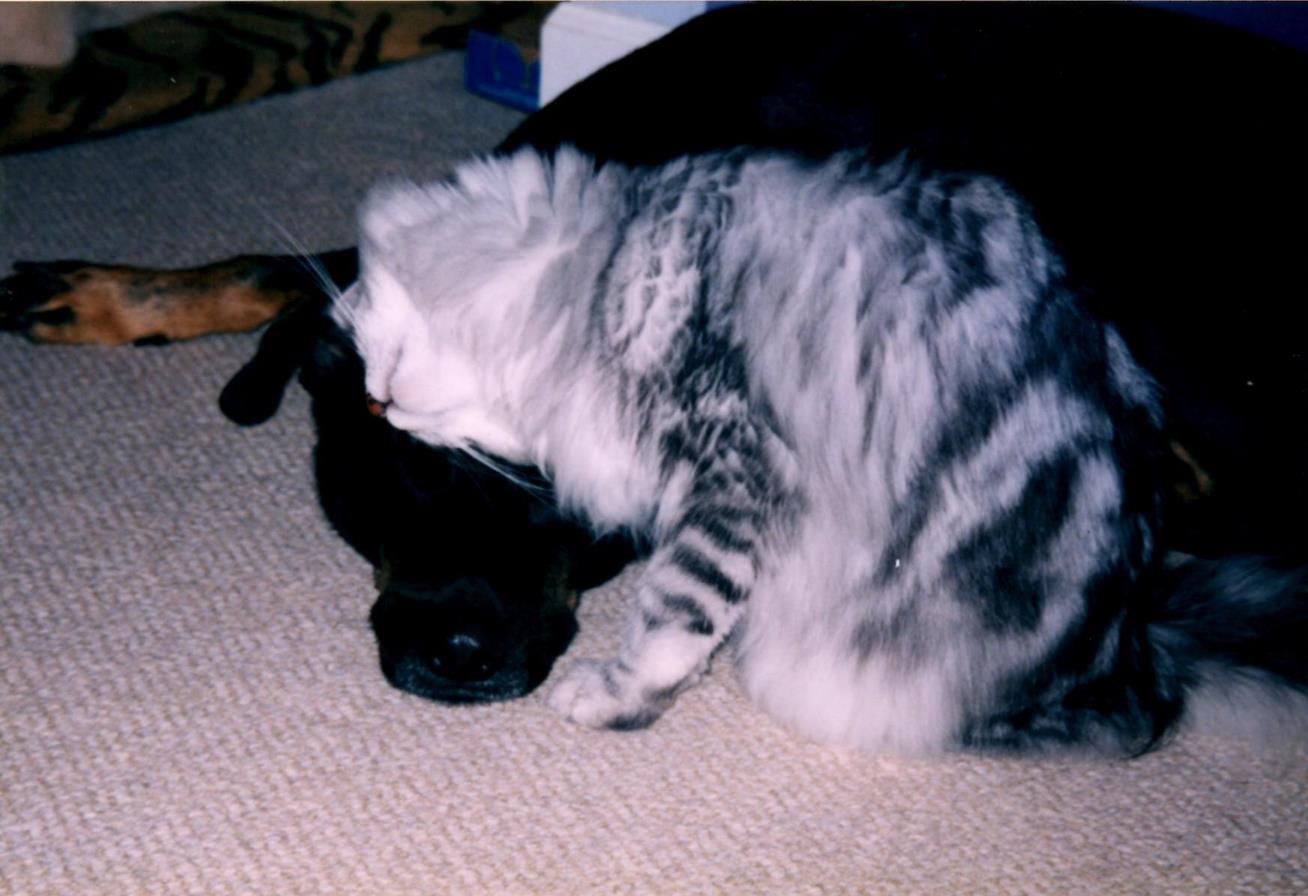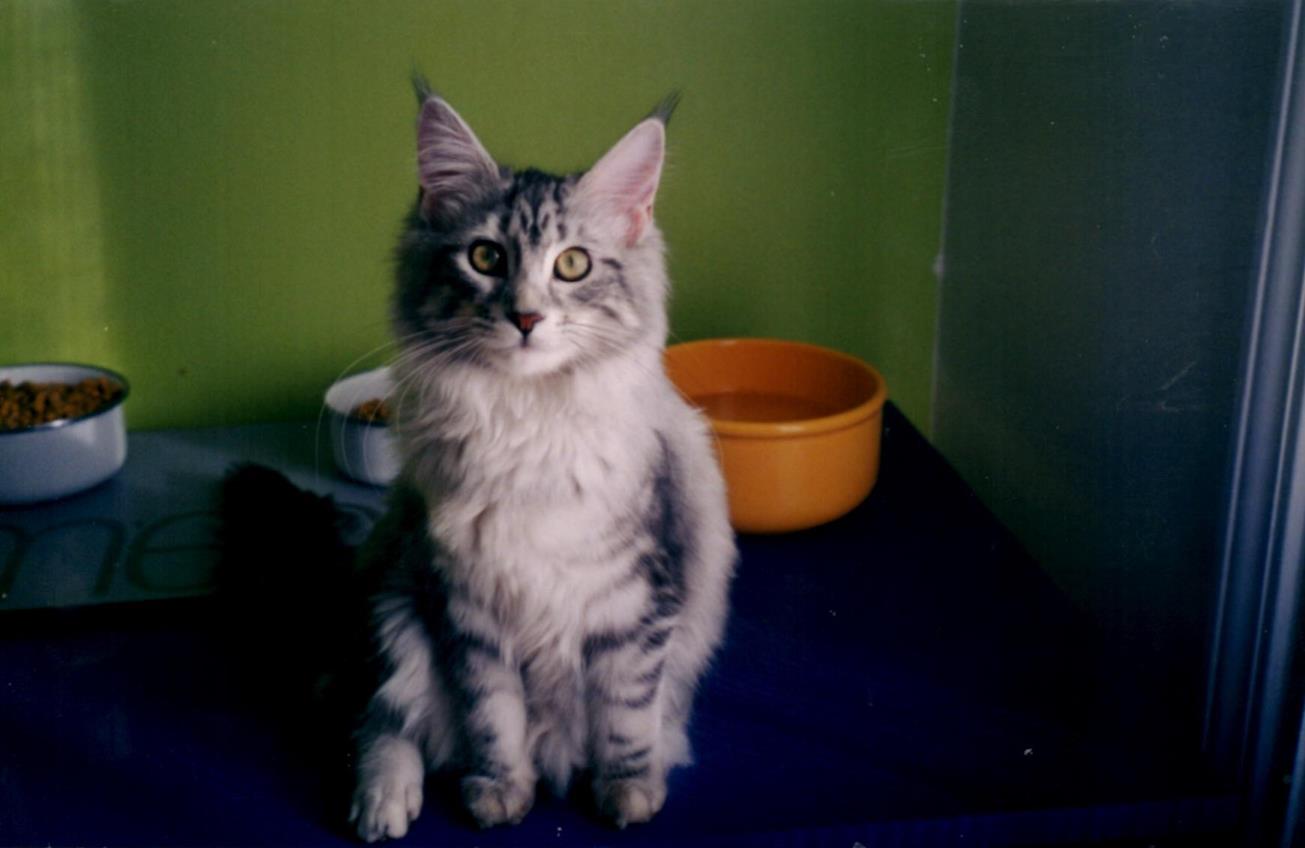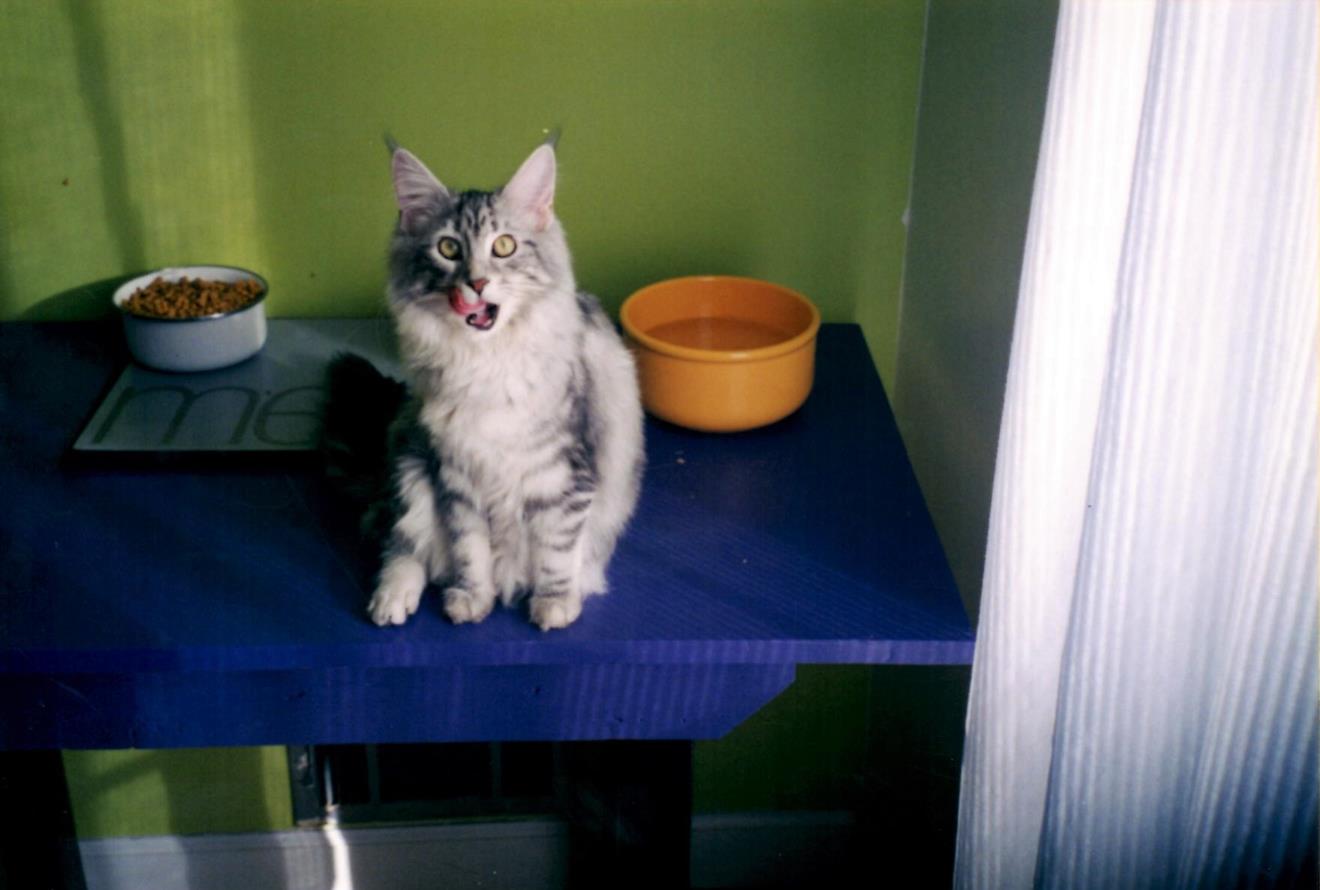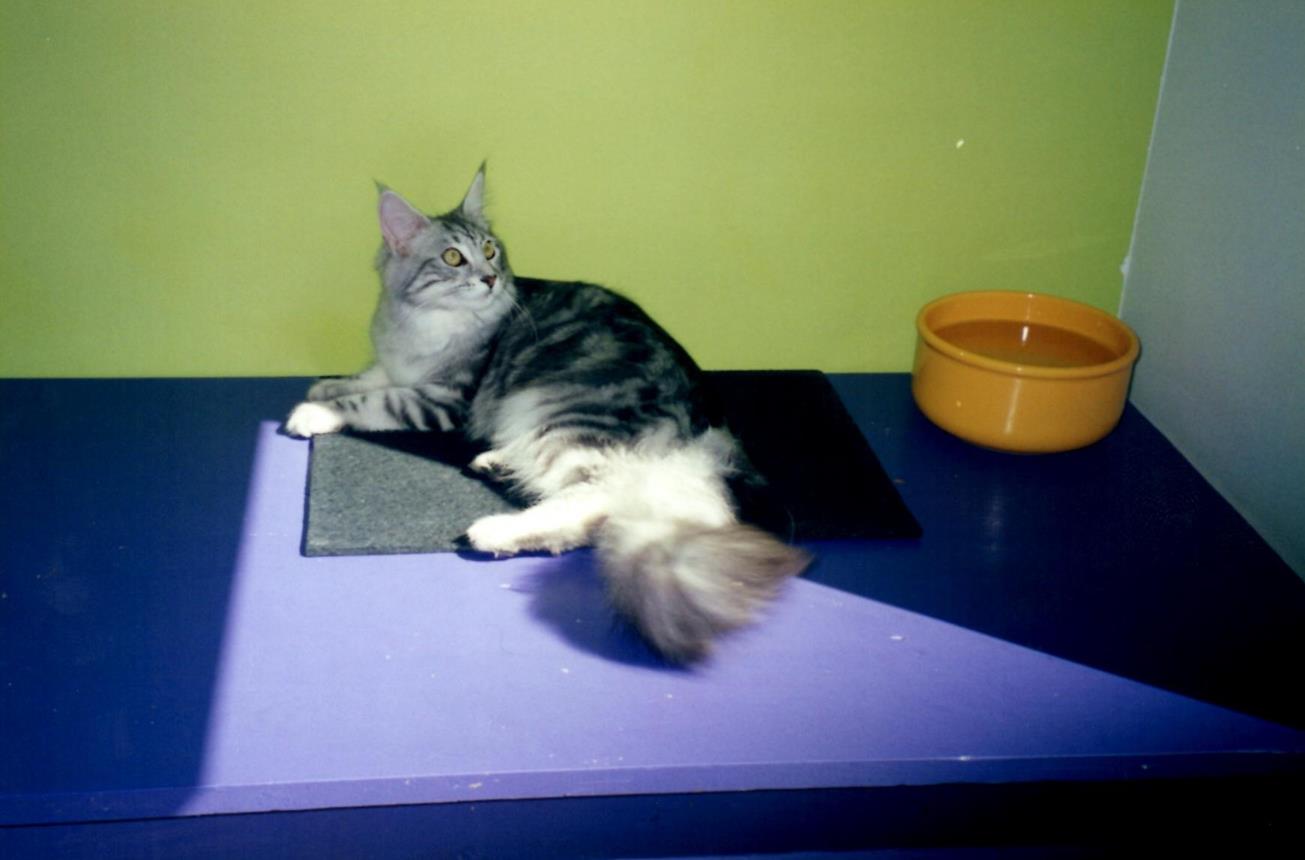 I remember when the house caught fire, she was the only one I couldn't find and the only one I did not have a carrier for. I found her in the one hooded litter box I had (offering choice for those who wanted it!) She was covered in drool and very sooty. I scooped her up and took her out to the car, no carrier, nada, she did just fine on the way to the clinic for the bathe-a-thon of everyone which later ensued.  Since then, I have always ensured I have one carrier per cat, no exceptions.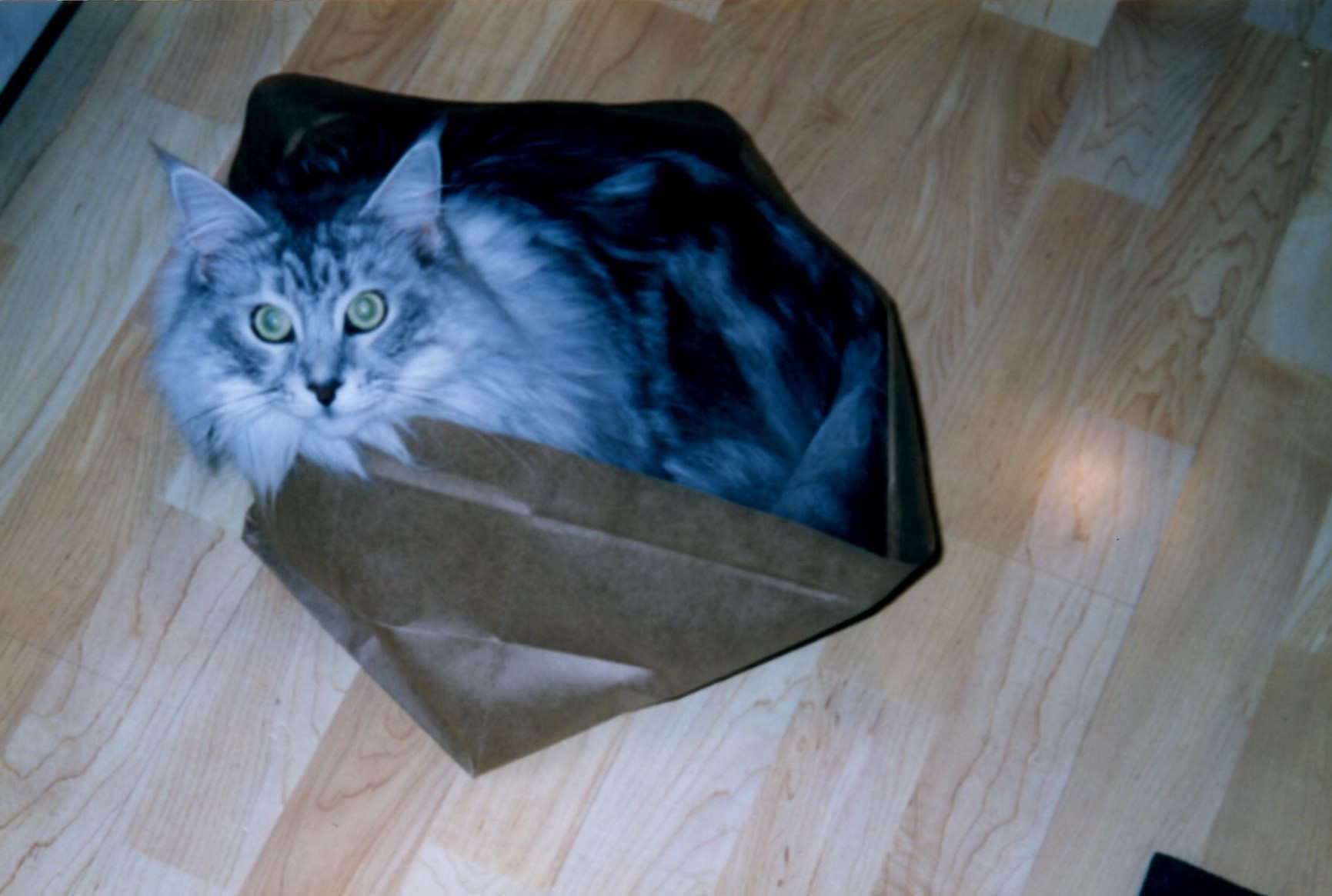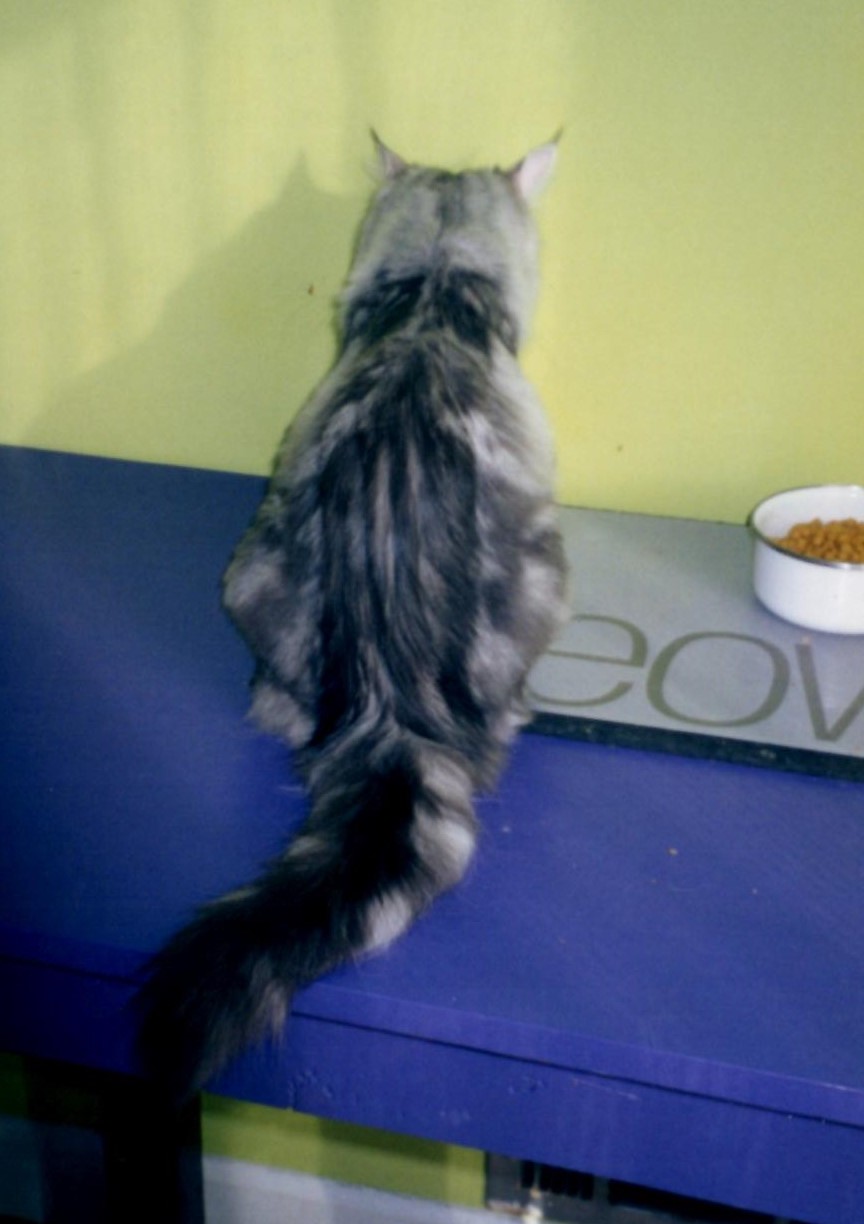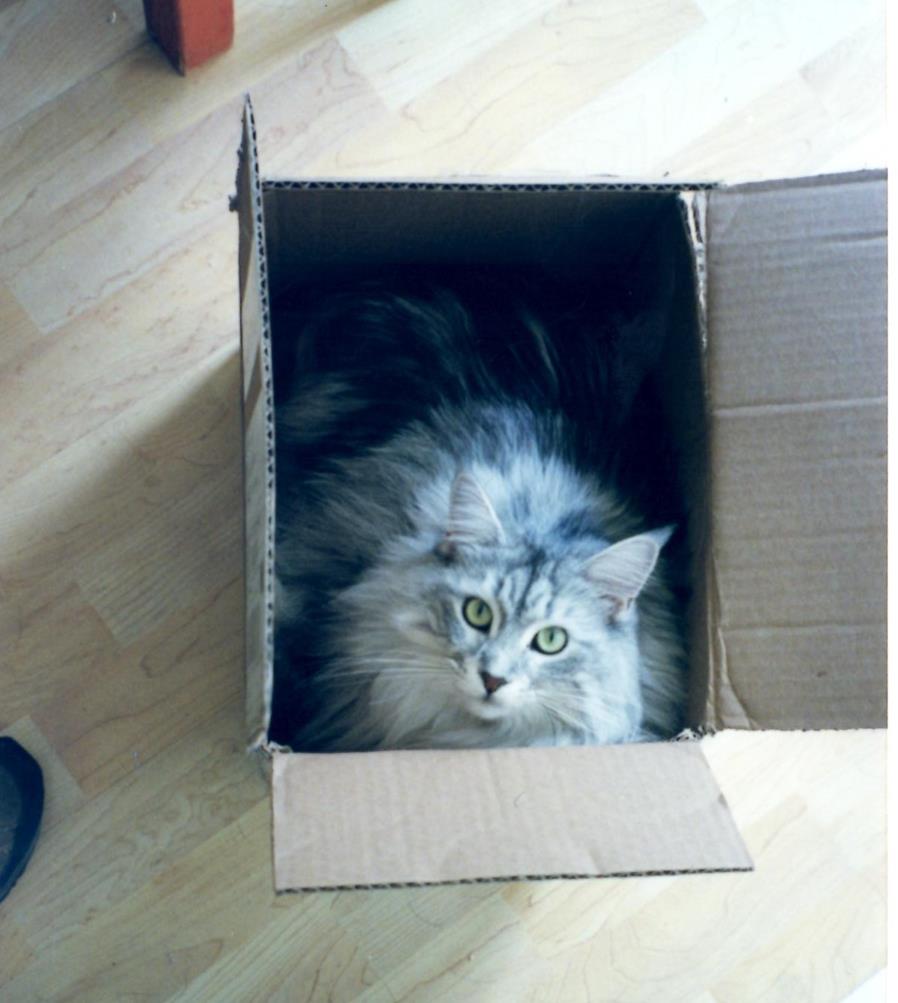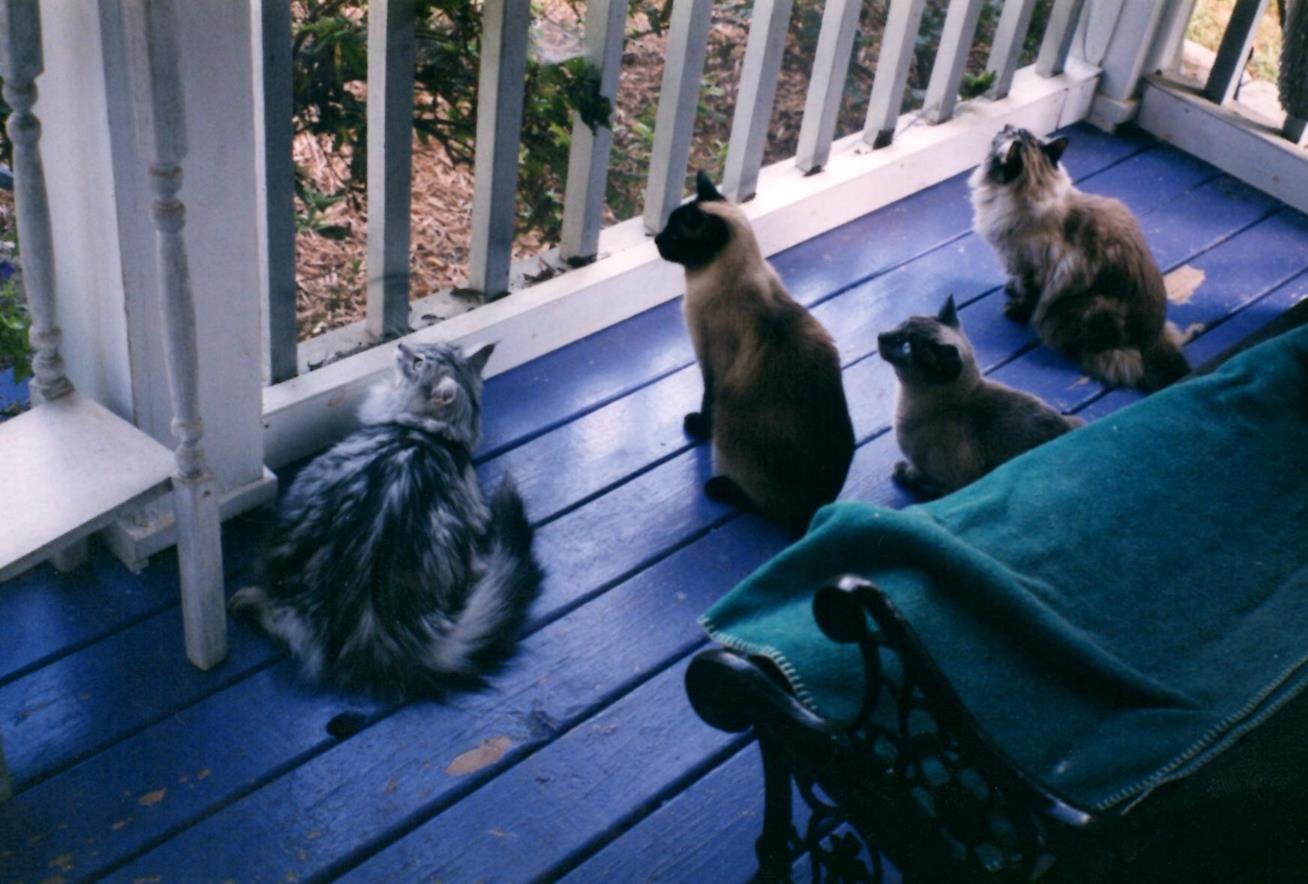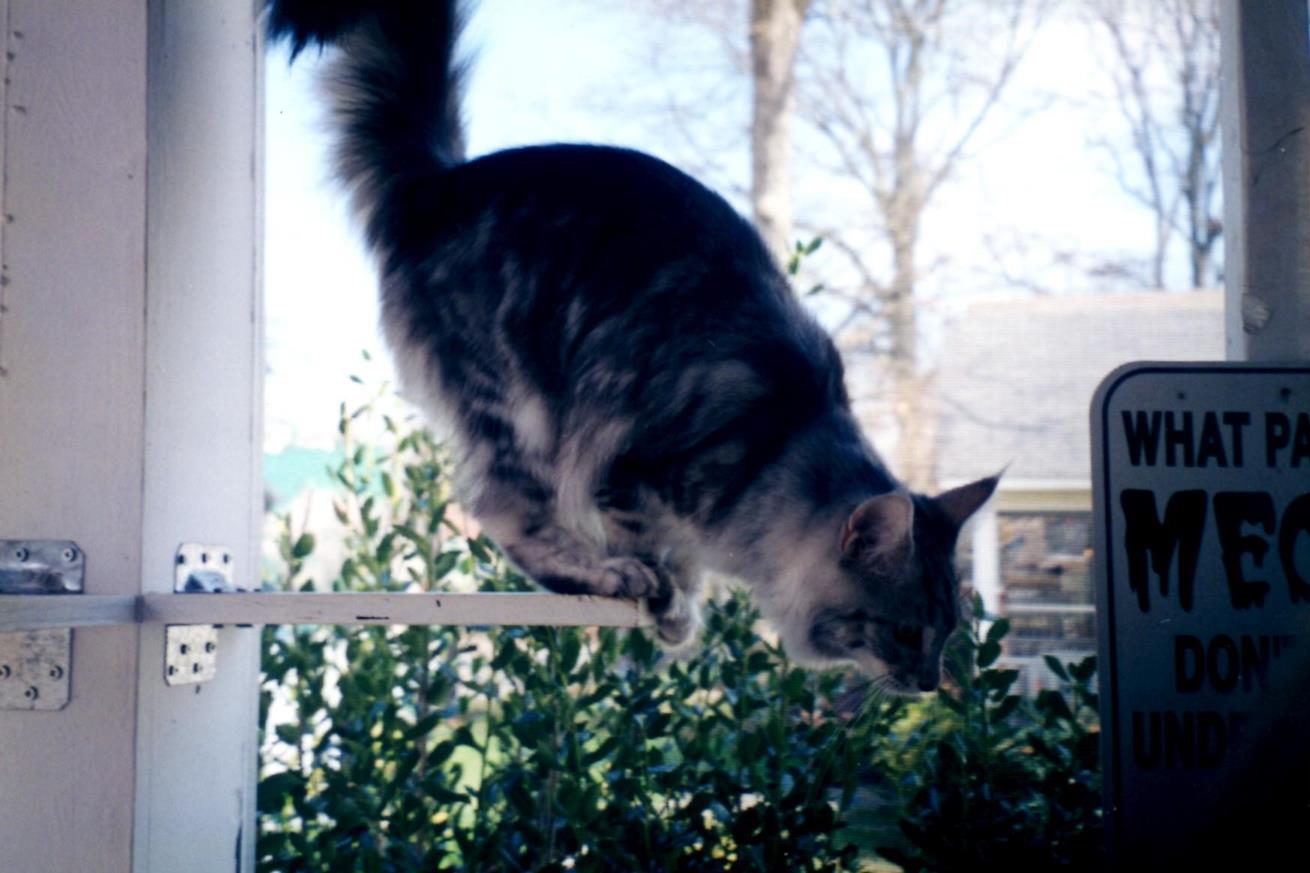 She was very present in the home and pretty much lived on the kitchen counters, table, and adjacent cat condo. She enjoyed height, surveying her land like the queen she was. She was a part of everything. I diligently marinate cat toys and she loved that chore. I would clean all of the cat toys (still do) and marinate them in different scents, she was front and center inspecting them and making sure I was performing this task correctly. Her favorite was a little, refillable/stuffable hedgehog.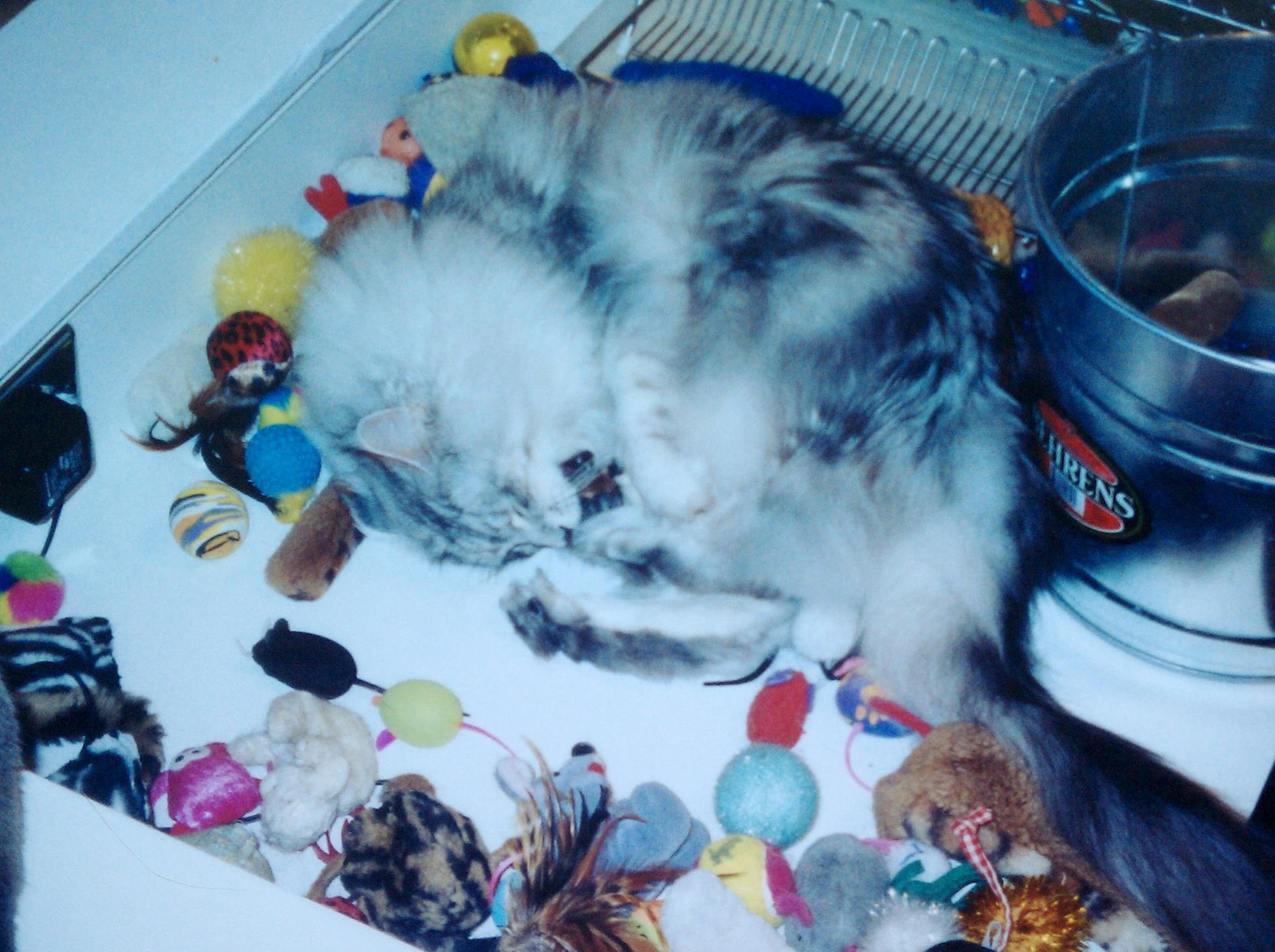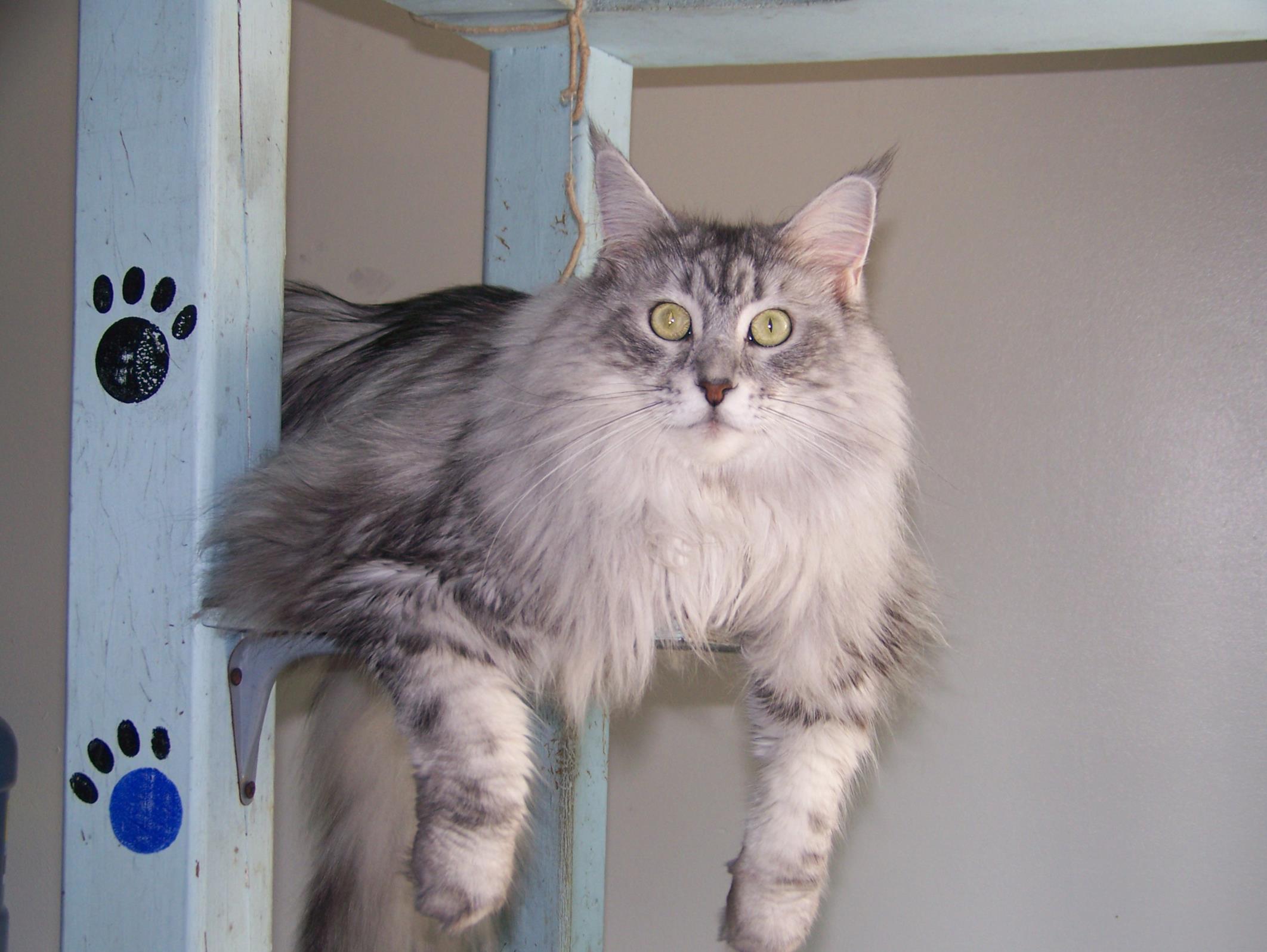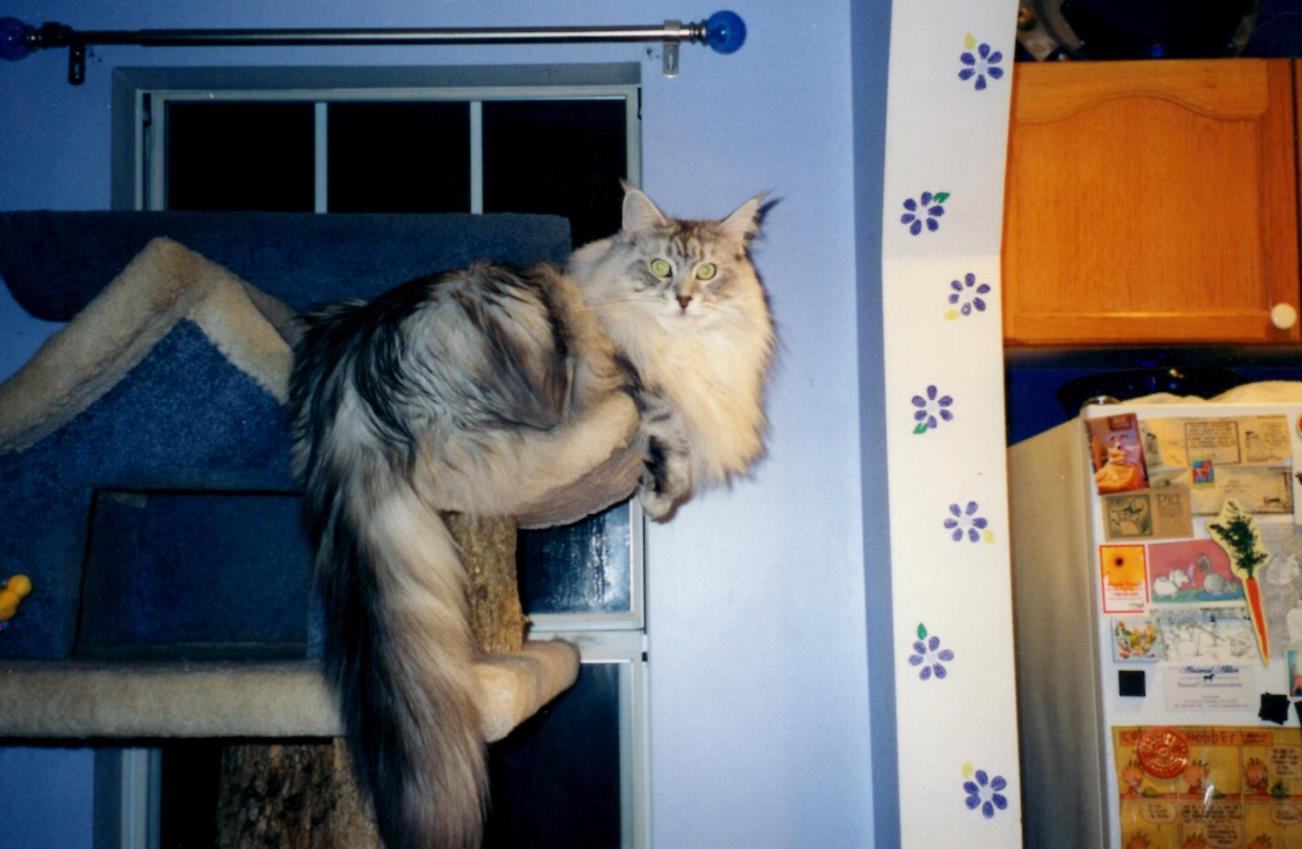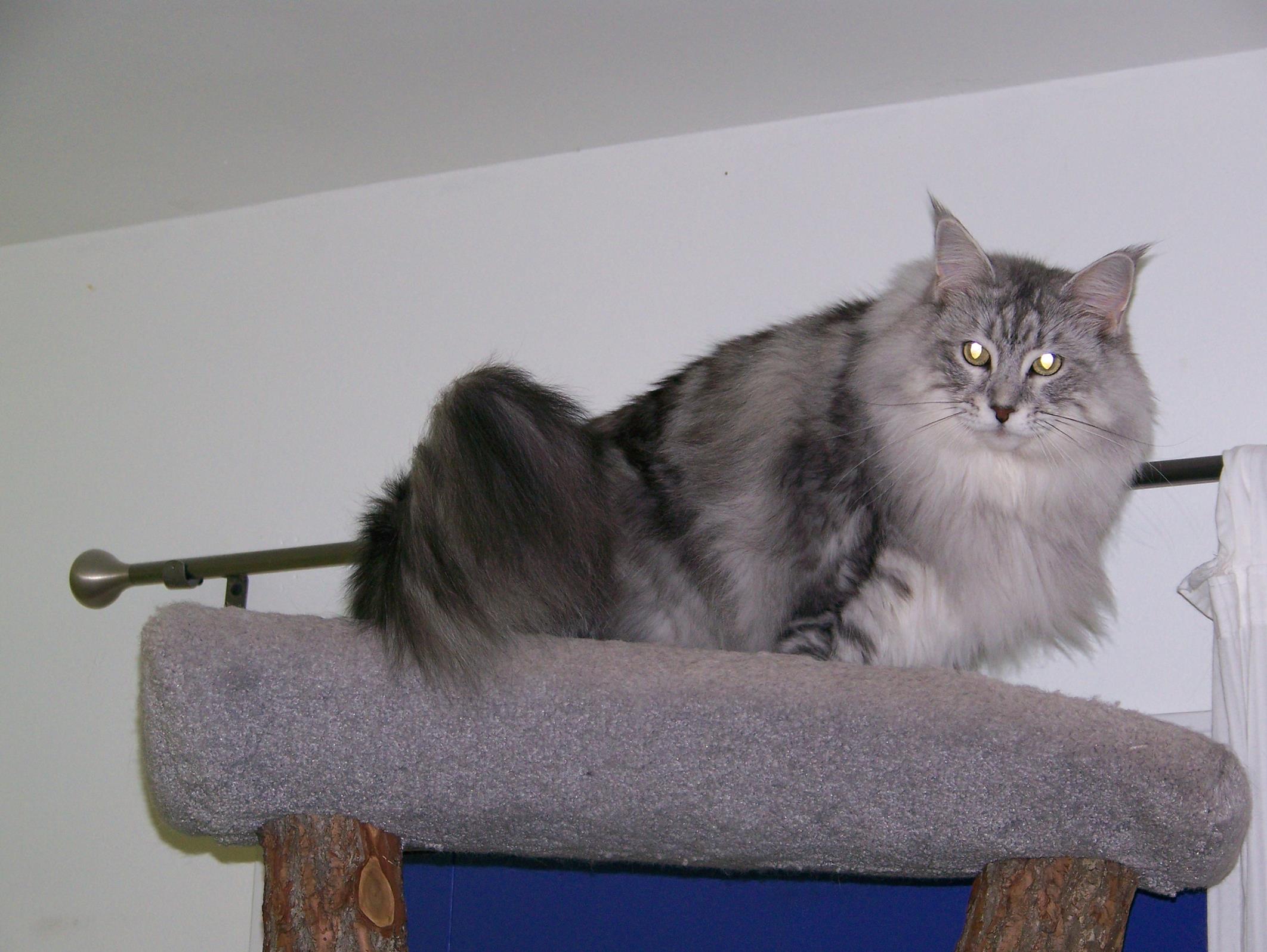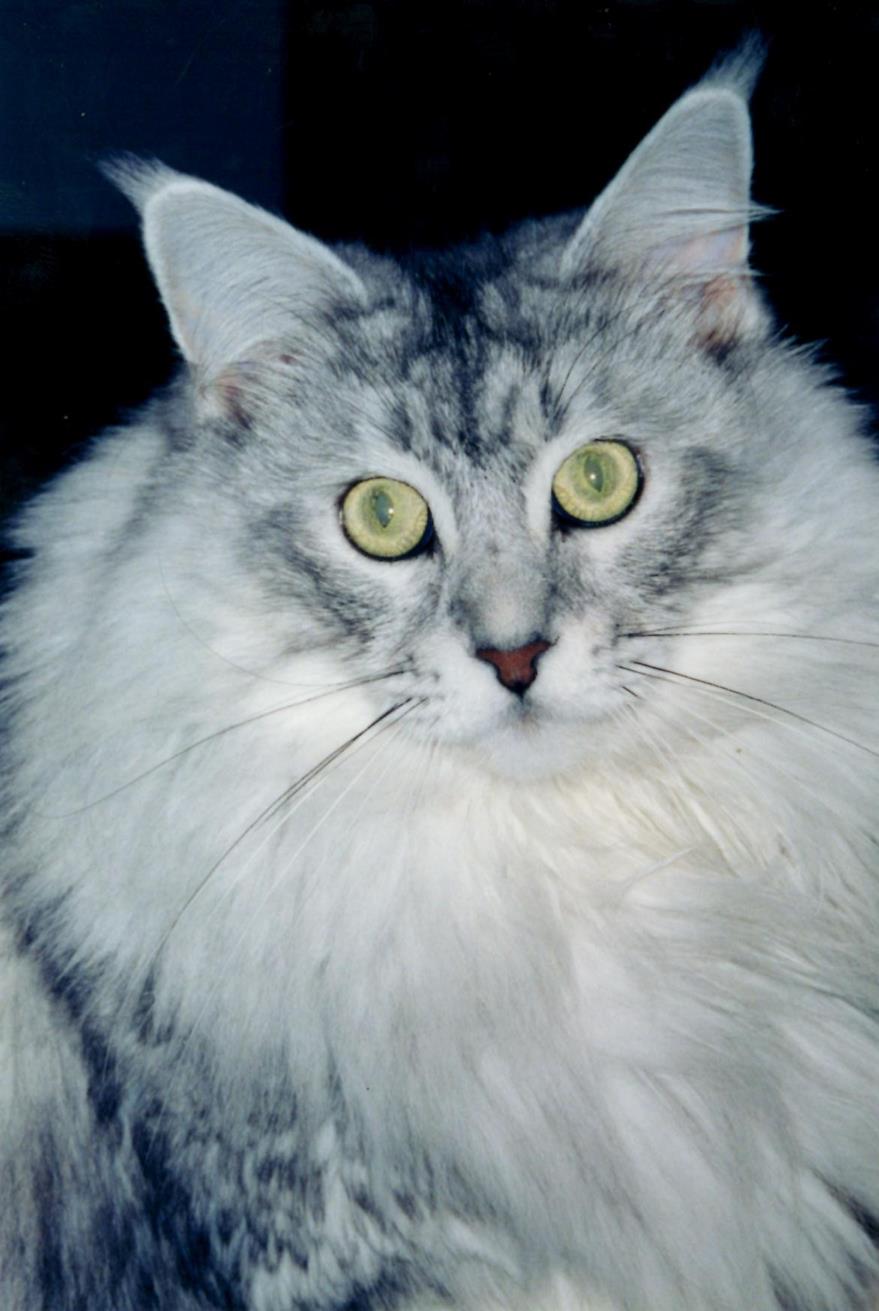 Iittala lived a VERY short life. We lost her at the age of six. One September, Sunday morning I was freshening food bowls and dishing up wet food breakfast, this was before the days of 100% food puzzles. She was eating from a bowl of dry food on the kitchen counter, I went upstairs to put down the upstairs food bowls, came back down to the kitchen and she was lateral on the kitchen floor. I yelled for Jake! All I could think was that she was choking on a piece of kibble! I stuck my fingers down her throat but couldn't find anything, I started to frantically compress her chest. Then I decided I needed an airway and Jake swiftly took apart a Bic pen so I could place it as an emergency trach tube! Called our vet, gave her breaths, no dice. She was gone in the blink of an eye. If she didn't choke on food then I thought, it must've been her heart. Maine Coon cats are known to have heart problems. I was still in the "need to know" stage and we did a quick autopsy at work and found nothing at all unusual. I couldn't bring myself to ship off her whole body so we sent only her heart to UGA and the results came back normal. Now there is a regret! I cremated her without her heart, just a horrible feeling every time I think about it. She was the last pet I ever autopsied. I know enough now to hypothesize why they died even if I do not have an exact cause of death, and I have decided I just do not want to cut them up to find out more.
Her urn is, you guessed it, a beautiful piece of Iittala crystal, complete with her little stuffed hedgehog.