At Fundamentally Feline the focus is to address all aspects of a cat's behavior that can be improved upon to help both cats and humans live more harmoniously together. Client education is the foundation of these in home cat behavior consultations. We offer house calls for cat behavior problems in the metro Atlanta, Georgia area and surrounding suburbs. Helping clients better understand their cats, what they need, and how to best provide for those needs, makes for a happier cat and a better educated pet parent.
Where you may have heard about us...
Snuffles, Doodles, and Dixie von Pickles Coll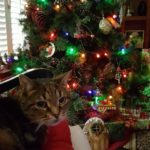 Not only did Ingrid provide steady and creative guidance with our cats' behaviors, but she also introduced us all to Dr. Globerman at Paws Whiskers and Claws, The Feline Hospital. As we fast forward to today, Doodles has been free of bladder flare ups for 9 months, no longer vomits on a daily basis, and (drum roll) no longer pees outside of the litterbox. We are all breathing a lot easier these days and enjoying each other's company all in the same room (yes, all in the same room). Yay!
Diane and Brian Coll
Animals:
Snuffles, Doodles, and Dixie von Pickles
Problem(s) Solved:
Urinating outside the litter box, cat to cat aggression, vomiting after eating