At Fundamentally Feline the focus is to address all aspects of a cat's behavior that can be improved upon to help both cats and humans live more harmoniously together. Client education is the foundation of these in home cat behavior consultations. We offer house calls for cat behavior problems in the metro Atlanta, Georgia area and surrounding suburbs. Helping clients better understand their cats, what they need, and how to best provide for those needs, makes for a happier cat and a better educated pet parent.
Where you may have heard about us...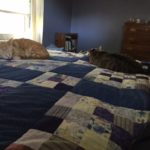 Ingrid's advice helped us solve the elimination problem immediately. Ingrid also gave us a specific protocol for a very slow and gradual reintroduction of the two cats and continued to encourage and advise. We sent her videos and asked a lot of questions. Finally, just over four months after we first adopted Carson, our two cats seem to be friends!
Kathryn and David
Animals:
Freya and Carson
Problem(s) Solved:
Introduction of a new cat, elimination outside the box, hyperactivity and attention seeking behaviors, aggression to humans and other cats