At Fundamentally Feline the focus is to address all aspects of a cat's behavior that can be improved upon to help both cats and humans live more harmoniously together. Client education is the foundation of these in home cat behavior consultations. We offer house calls for cat behavior problems in the metro Atlanta, Georgia area and surrounding suburbs. Helping clients better understand their cats, what they need, and how to best provide for those needs, makes for a happier cat and a better educated pet parent.
Where you may have heard about us...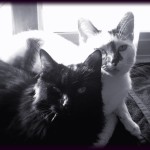 She also has such a thorough and truly holistic approach that instead of simply narrowing in on a 'BEHAVIOR PROBLEM' we talked about all other aspects of a cat's life and wellness plan. Ingrid also cares for the human; she made me feel a lot less embarrassed and inadequate by sharing her own story, and pointing to the reality that no matter how great a job I do, the cats will be cats and at these numbers part of being cats will likely include urine marking. She is a client's dream, and I might add a veterinarian's dream!
Dr. Danya Linehan, DVM
Problem(s) Solved:
Litter box aversion, cat to cat aggression, environmental boredom