At Fundamentally Feline the focus is to address all aspects of a cat's behavior that can be improved upon to help both cats and humans live more harmoniously together. Client education is the foundation of these in home cat behavior consultations. We offer house calls for cat behavior problems in the metro Atlanta, Georgia area and surrounding suburbs. Helping clients better understand their cats, what they need, and how to best provide for those needs, makes for a happier cat and a better educated pet parent.
Where you may have heard about us...
Julie, Buddy & Benny McKay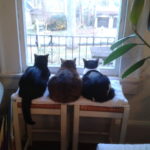 I want to say that you don't have to have a problem to benefit from Ingrid's great knowledge and experience. I would encourage any cat owner to invite Ingrid into your home to tell you about how you can enhance your cat's life. A session with Ingrid would be a wonderful birthday or holiday gift for anyone with a cat or who is about to get a cat! Cats are complicated creatures that deserve our understanding and Ingrid helped me do that.… Read more "Julie, Buddy & Benny McKay"
Betsy McKay
Animals:
Julie, Buddy & Benny
Problem(s) Solved:
Intercat aggression, introduction of a new cat, boredom behaviors.