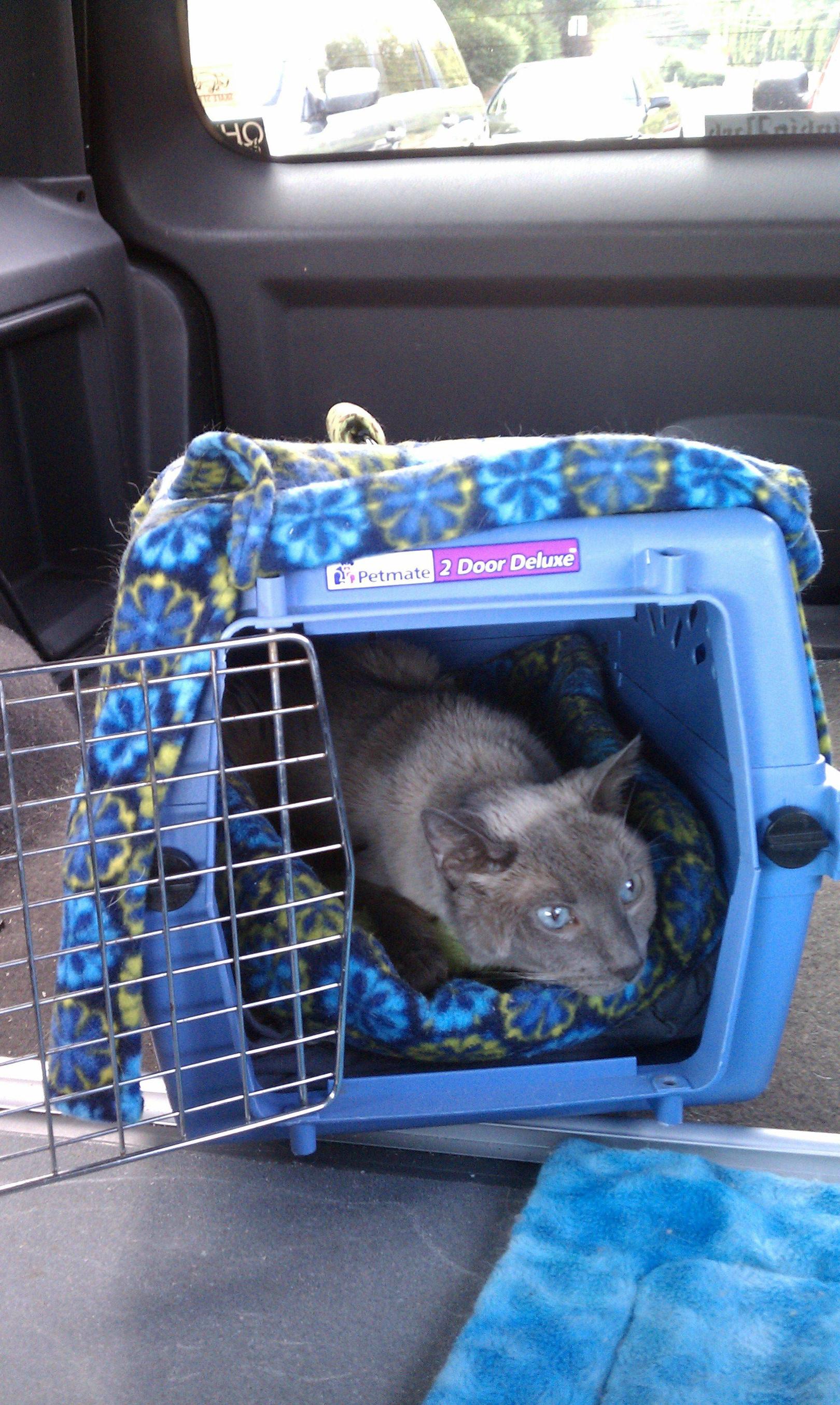 Cats visit the veterinarian far less than our canine companions. This is largely due to the common problem that most pet parents cannot get their cat into a carrier; at least not easily. If we change our expectations of cats and train them from kitten hood the way we do with puppies it would certainly make things a lot easier. One of the first activities for families with a new puppy is an exciting ride in the car to pick out a leash and collar. We should do the same with our cats. We also take the puppy to different places, which means the car ride doesn't always equal a trip to the veterinarian. We should do the same with our cats!
The following is a list of suggestions that can make getting your cat into their carrier easier and less stressful for all involved.
Leave the carrier out in the home. One of the most common complaints I hear from clients is that when they took the cat carrier out of the closet their cat ran under the bed. Well, of course it did! That cat hasn't seen the carrier since the last time they were sick and didn't feel well, had surgery, or last year when they went in for their annual visit and got poked and prodded. If the cat carrier sits under the desk in your home office or out on the sun porch 365 days a year than it becomes no more scary than the armchair in your living room. Doing this will essentially desensitize your cat to the carrier. When it is time to go somewhere, simply pick up your cat and bring them to the carrier. DO NOT bring the carrier to your cat.
Make the carrier inviting and cozy. When leaving the carrier out and about in the house make it a great place for your cat to hang out. Put a nice bed in there or an old T-shirt that smells of their favorite human. Place food and treats in the carrier for your cat to discover. Catnip and toys should be included too. Sliding around inside a slick, scary box that you were put in against your will is pretty unpleasant. Add to that fear and motion sickness and the potential for your cat to vomit and eliminate during travel is it also pretty gross. Having bedding in the carrier makes for a warm and cozy trip. If your cat should eliminate, at least there is something absorbent in there so they are not covered in it upon arrival to the clinic. There is nothing worse than starting off your cat's annual physical with the stress of a bath! If you know your cat tends to make messes during travel then bring a change of bedding for the ride home. It is also nice to cover the carrier with a towel or specially designed carrier cover to help your cat not feel so vulnerable and exposed. See photo.
The type of carrier is important as well. While there are many varieties on the market a top loading carrier is really the easiest for most people to work with to achieve a successful outcome. A plastic, hard sided carrier with a removable top is ideal. This allows the vet staff to take your cat out with ease and even perform much of the examination in the comfort of the bottom of the carrier. Cats do better when the can stay inside the one place that smells like home or their favorite human, as it is the only familiar thing they have while at the vets office. Soft sided carriers do not allow for this technique. If your cat is challenging during an office visit, then soft sided carriers are definitely not preferred. The mesh sides give the cat too much to hold onto and it can be very difficult to remove them from the carrier. If your cat typically vomits or eliminates during travel then the soft sided carriers are also very messy as the contents can leak out onto your car seats, floorboards, and even onto you! Safety should also be considered, and a hard sided plastic carrier will keep your cat safe should you be in a car accident while traveling with your kitty.
Training can make all the difference. If you are truly motivated to make getting your cat into their carrier less of a struggle, then train them to go in on command! Clicker training is ideal for this to be successful. Simply leave the carrier out for your cat to explore, and leave both the front door and top loading door open. When they approach the carrier or perhaps jowl rub it, click and treat your cat. If they show any interest in sticking their head inside to sniff and check it out, click and treat that as well. One foot in the carrier, click and treat. Basically, you are rewarding any close approximations towards the end goal, which is all four feet in the carrier. Once you have achieved this then you only click in treat when the whole cat is in the carrier. Eventually you can add a verbal cue, such as carrier, crate, or box, etc. You can also play with your cat with the carrier completely open. Dangle a feather toy or piece of string and have them run thru the door and jump out the top. Never getting closed in, but having a good time in there will build trust.
Practice trips can help too. You can take your cat for a quick car ride just as you would your dog. The end result does not have to always equal a trip to the veterinarian which will help your cat not have such a negative association with that pesky travel box. This can be especially helpful if you have an adult cat or newly adopted cat that really hates the carrier. Try to reinforce that bad things do not always happen as a result of being in the carrier while simultaneously reinforcing that they always get to come home.
To start, put your cat in the carrier using one of the positive techniques described above and take them out to the car. Give them a very high value treat such as chicken deli meat and come back inside. The session is over. Nothing bad happened, in fact, chicken happened! You may need to repeat this for a few more sessions before moving on. You want to gradually build to taking a trip around the block, giving that high value reward and then returning safely home, no vet visit, just cruisin', snackin' and then home. I even have some clients that bring their cats along to the vet to pick up medications or food and the cat never comes out of the carrier. They just come along for a positive visit. Perhaps their human picks up some yummy treats or a catnip toy and they go home. No needles, no nail trims, no handling; just a positive trip to the vet.
Help them cope with the stress. Despite all of these suggestions, it is still no doubt stressful for most cats to have to go in their carrier which often leads to a vet visit. Feliway should be used to aid in minimizing your cat's stress. Feliway is a synthetic feline facial pheromone that helps your cat feel comfort in a new or strange place, and helps them feel as if they have already marked this place before so it seems more familiar. Spray your cat carrier and car with Feliway at least 10 minutes prior to travel. You can also spray the carrier regularly while it is sitting out somewhere in your home.
Lavender and honeysuckle are also scents that cats can find calming and appealing. You should not allow your cat to come into direct contact with these essential oils however. Simply allow the fragrances to aerate the surrounding area so that your kitty has a smell that they may find calming.
Composure treats are calming treats that can be used in many different stressful situations. Giving your cat one or two treats prior to their vet visit may not only help with travel but the examination as well. Some clients have also found Rescue Remedy to be helpful.
Consider carrier storage. Keep in mind where you store your carrier. Is it buried in the garage covered in debris and filled with dead bugs and cobwebs? Is it up in the attic, buried under this years' yard sale goods filled with dead bugs and cobwebs? Do you think your cat will find this filthy, weird box that is saturated in all of these unappealing smells inviting? Cats are clean and tidy animals, their carrier should be clean too. Not to mention, that carrier is your cats' ticket to safety if you have an emergency. Take it from someone who has experienced a house fire!! Make sure you can easily access your cat's carrier. It could be a situation of life or death!
The goal is to not make the cat carrier a big scary monster! Make it a cozy fun place to be!
Happy Travels!